Hidden Treasure – Did You Know The Most Popular Work of Art in America is a Painting of The Last Supper by Salvador Dali? – Smithsonian Art Gallery Ambivalent – "Painting hangs in a corner by the elevator."
Since its purchase in 1956 by the National Gallery of Art in Washington, The Sacrament of the Last Supper, an oil painting by Salvador Dalí (1904-89), has replaced Pierre-Auguste Renoir's "Girl With a Watering Can" as the museum's most popular work (pushing her "into the mud" as Time magazine quipped). The popularity of Dalí's image has persisted despite critical hostility toward the painting and the gallery's own ambivalence. It hangs in a corner by the elevators. – America Magazine Jesuit
It turns out there are many lists for most visited art museums in the world. But according to Wiki the two most popular Art Museums in the United States are the Metropolitan Museum of Art in New York  and the Smithsonian's National Art Gallery. (See wiki link below) Due to the sheer size and diversification of art work at the Metropolitan Museum Art, it stands to reason Salvador Dali's Last Supper at the National Gallery of Art may be the single most viewed piece of art in America. Despite its popularity, the National Gallery of Art (presumably due to the Catholic theme) downplays its importance.
Read America Magazine article on painting here 
The Sacrament of the Last Supper
Dali – The Sacrament of the Last Supper – lowres.jpg
Artist Salvador Dalí
Year 1955
Medium Oil on canvas
Dimensions 267 cm × 166.7 cm (105 in × 65.6 in)
Location National Gallery of Art, Washington DC
---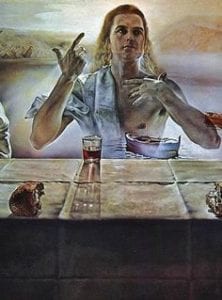 The Sacrament of the Last Supper is a painting by Salvador Dalí. Completed in 1955, after nine months of work, it remains one of his most popular compositions. Since its arrival at the National Gallery of Art in Washington, D.C. in 1955, it replaced Renoir's A Girl with a Watering Can as the most popular piece in the museum.
The Sacrament of the Last Supper was completed during Dalí's post-World War II era, which is characterized by his increased interest in science, optical illusion and religion. During this time he became a devout Catholic and simultaneously was astonished by the "atomic age". Dalí himself labeled this era in his work "Nuclear Mysticism". He sought out to combine traditional Christian iconography with images of disintegration. This is especially apparent in his piece The Madonna of Port Lligat, which was completed six years earlier.
The painting wasn't commissioned. After purchasing the Crucifixion and then giving it to the Metropolitan, collector and banker Chester Dale told Dalí he "had to do one more religious picture". In a paragraph in the National Gallery's curatorial file but is missing from all published accounts, Dalí wrote of this picture: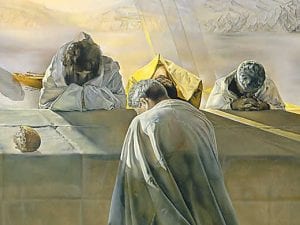 The first Holy Communion on Earth is conceived as a sacred rite of the greatest happiness for humanity. This rite is expressed with plastic means and not with literary ones. My ambition was to incorporate to Zurbarán's mystical realism the experimental creativeness of modern painting in my desire to make it classic
The Sacrament of the Last Supper depicts thirteen figures gathered around a table. Assuming this painting is in line with traditional symbolism the figures are Christ and his 12 Apostles. Christ is the center figure in the painting placed directly on the horizon line. Directly behind him on the intersection point of perspective rests the source of sunlight making the Christ figure the focus of the painting. He points upward directing the viewer's attention to a dominating transparent torso with arms stretched outward spanning the width of the picture plane. The scene's setting is within a transparent dodecahedron, or twelve-sided space as perceived in the pentagon shaped windowpanes behind the table. In the background is a familiar landscape of Catalonia, which Dalí has included in his paintings numerous times, one example being his famous painting The Persistence of Memory.
The combination of a classic Christian theme with the jarring techniques of Surrealism captures the eye, as Dalí was able to do repeatedly with such works as The Temptation of St. Anthony, Christ of Saint John of the Cross, Crucifixion (Corpus Hypercubus), Nuclear Cross and The Ecumenical Council, among others. The composition was laid out using the Golden Ratio.[2] Even the large dodecahedron in the background is very closely related to the Golden Ratio.
There have been many interpretations of this painting, but some critics have dismissed the piece, with the Protestant theologian Paul Tillich even calling it "junk."[3] Michael Anthony Novak, a Catholic theologian, presented a paper on the subject of this piece in 2005.[4] He proposes that Dalí's intention was not to simply paint the event of the last supper. He later stated:
Dalí's true intention, which he has masterfully accomplished on this canvas, is to remind us of what is occurring in every celebration of this mystery of bread and wine: that the worship here on Earth makes present the realities of worship in Heaven.
Other critics, like Novak, say, by looking at the title, the focus is not placed on one evening two thousand years ago. The lack of individualization of the apostles, their lack of focus on Christ and the almost dematerialized Christ reaches beyond the fact of the event. Some say because Christ points to himself and the floating torso above him it could possible be that he is referring to himself as his spirit has already ascended to heaven.[6]
---
Since you're here …
… we have a small favor to ask. More people are reading Mystic Post than ever but advertising revenues across the media are falling fast. And
unlike many news organisations, we haven't put up a paywall – we want to keep our journalism as open as we can

. So you can see why we need to ask for your help. Mystic Post's independent journalism takes a lot of time, money and hard work to produce. But we do it because we believe our perspective matters – because it might well be your perspective, too.
High quality journalism is essential intellectual nourishment. The generosity of providing such a service without a paywall deserves recognition and supportGiacomo P, Italy
I've been enjoying Mystic Posts for several years now. Today, when so much seems to be going wrong in the world, Mystic Post is working hard to provide truthful Catholic news. I want to support that Robb R. UK
I appreciate there not being a paywall: it is more democratic for the media to be available for all and not a commodity to be purchased by a few. I'm happy to make a contribution so others with less means still have access to information. Annonymous Donator
If everyone who reads our reporting, who likes it, helps to support it, our future would be much more secure.
Thank you
$1.00 $10,00 $25.00 $1,000 – Any contribution makes a big difference.
With a $25.00 donation receive a free miraculous medal. We can really use it – THANKS!