Signs of Prophetic Times: "The Bible warns the destiny of the World is inseparable from Israel and Jerusalem." Pope Francis on USA Recognizing Jerusalem as Israel's Capitol…."I cannot keep silent with my deep concerns"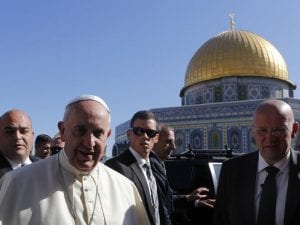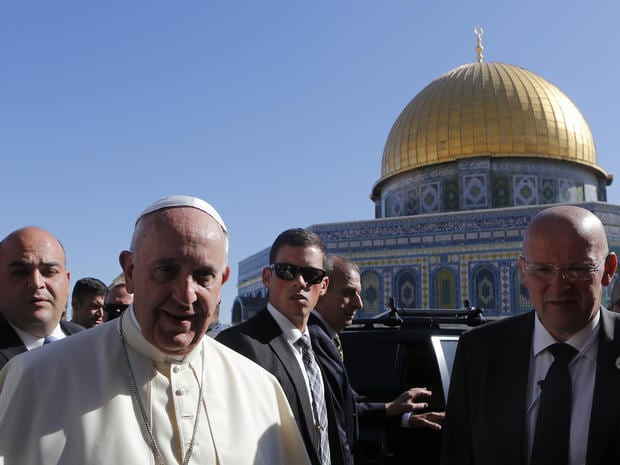 Pope Francis Wednesday defended the "status quo" of Jerusalem, hours ahead of an announcement by US President Donald Trump in which officials said he will recognise the disputed city as Israel's capital.
"I cannot silence my deep concern over the situation that has emerged in recent days. At the same time, I appeal strongly for all to respect the city's status quo, in accordance with the relevant UN resolutions," the pope said in his weekly address.
The Argentine pontiff's call came a day after he spoke by phone with Palestinian president Mahmud Abbas, the Vatican said without elaborating.
"Jerusalem is a unique city, sacred for Jews, Christians and Muslims," he said, adding that it was home to sites deemed holy by followers of the three major monotheistic faiths.
Jerusalem, the pope said, holds a "special vocation for peace".
"I pray to God that this identity is preserved and reinforced, for the sake of the Holy Land, the Middle East and the whole world, and that wisdom and prudence prevail," he said.
The pontiff added that maintaining the status quo was important "in order to avoid adding new elements of tension to an already volatile world that is wracked by so many cruel conflicts".
---
Jerusalem And Prophecy
From Alpha News Daily:
"The Bible warns the destiny of the World is inseparable from Israel and Jerusalem. The Bible says God would one day re-gather the children of Israel back into their land from among many nations around the world. The Bible says they would be re-gathered in unbelief … God warns He is not re-gathering the children of Israel into their Land because they deserve it, but because His Name and His Word are at stake (see Ezekiel 36:17-23) … and because He loves them. They are His chosen people. The Bible warns God would then make Jerusalem a world trouble spot. The Bible says all nations of the world will turn against Israel. The Bible warns during this time 'Gaza will be forsaken' … and offers a stark warning. The Bible warns a coming world leader (the 'Antichrist') will rise out of 10 nations which once formed the Roman Empire and will enforce a peace plan or treaty ('covenant') upon Israel ('upon the many' – for many in Israel will be against it) … and then, after a 3½ year false peace, God warns He will send the children of Israel (and all the nations of the world) through a fiery trial unlike anything in the history of the world, to separate those who will turn back to God and His Word from those who have hardened their hearts against God and His Word (the 'Apocalypse').
---
---