Mystic Post Mission "Work for the Triumph!"
---
Pope John Paul II writes about a statement made by Cardinal August Hlond.  The Cardinal, on his deathbed, told the young Pope: "The victory if it comes, will come through Mary."
Pope John Paul II: "After my election as Pope, as I became more involved in the problems of the universal Church, I came to a similar conviction: on this universal level, if victory comes it will be brought by Mary. Christ will conquer through her because He wants the Church's victories now and in the future to be linked to her" 
The Triumph of the Immaculate Heart is also the triumph of the Church.  The Holy Father has understood and taught that She will bring the new springtime to the Church; then the faith will reappear, the Church will shine, and the heart of Christ will triumph.
---
Work for the triumph!
"Those who surrender completely to the Immaculate will burn with a powerful love that will set fire to all those around them and will cause many souls to burn with this same love.  This is how they will conquer the entire world and each particular soul for the Immaculate. This they will do as quickly as possible" (St. Maximilian Kolbe).
The personal consecration and an authentic life will knock down the structures of sin that exist in our hearts.  First, we must make sure of Her triumph in our hearts; this triumph will lead the way to Her triumph in society.
"Until the end of time, we must win the universe and each individual soul, now and in the future, for the Blessed Virgin, and through Her, for the Sacred Heart of Jesus.  Those souls will reach a much better and more profound love for the Sacred Heart than ever before. Through their love the world will be set on fire and consumed" (St. Maximilian Kolbe)
I think we should recognize the seriousness of the moment and how much depends on our response to the hour in which we live.  Her Immaculate Heart will triumph – how beautiful it would be to know that we were instruments, however small, of that triumph.  During our last trip to Fatima with our pilgrims, when saying our farewell to the Blessed Mother in the little chapel of apparitions, we were exhorted to "go and be apostles of her Immaculate Heart."
In other words, we should respond to the call of Our Mother through the means She gives us to reach the triumph of Her Immaculate Heart, and we should, more than ever, make Her known and loved and use the means She gives us for our conversion and the era of peace.
Stephen Ryan




Publisher




Mystic Post
---
With a $25.00 donation receive a free miraculous medal. We can really use it – THANKS!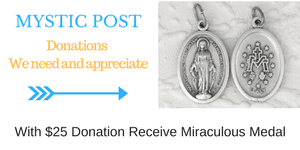 You can make a contribution by credit card here via our secure paypal interface. You will receive an acknowledgment and receipt by e-mail. If you have any questions, or if you would prefer to give your credit card details over the phone, please contact us at 703-867-3447.  We are truly grateful for any amount you can give to help us fulfill our mission.
---
About Mystic Post:
Mystic Post.com hopes to be a destination for an open and fearless dialogue about all the ways the Catholic faith affects our lives.  Based in Alexandria, Va., we are an online news magazine exploring the mystery of faith.  We are dedicated to bringing a fresh perspective to important issues of the day.
[wpdevart_like_box profile_id="ministryvalues" connections="show" width="300″ height="550″ header="small" cover_photo="show" locale="en_US"]