Vicka, the Visionary of Medjugorje Speaks : "The whole family should experience Easter as a feast of joy, and in order that this may be possible, the family must reign in prayer, forgiveness, personal self-denial, and do not buy clothes."
---
"When the Madonna comes, I feel like now like I am with you. She greets us and sometimes she holds out her hand. When I touch you, I feel a particular joy, gentleness and love. Today for me is a great day, in three hours the Madonna will appear. I will greet her and tender her. I always say that the beauty of the Madonna can not be described. 
The beauty of the Madonna is pervaded by the beauty and holiness of God. For us it is an experience that we see with our own eyes, but which we can not express in words. She tells us she is beautiful because she loves everyone. Beauty does not come from the outside, but from the depths of our heart and soul.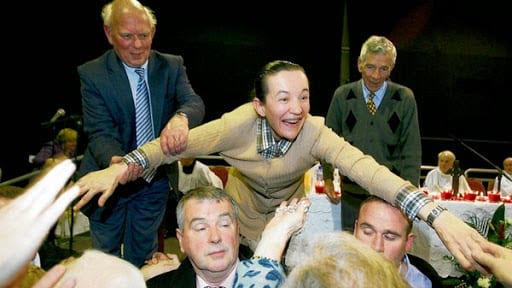 Therefore Our Lady invites us to work on our inner beauty, on the beauty of the heart and soul, and so we will be beautiful even outside. This means that we must love all that God has created and has given us. 
It means that we must put God first and we must recognize him as our goal, not the ephemeral things that only disturb us on our journey towards God. We must make use of material things, but they must not be our ultimate goal or the thing important in life.
We will not be able to bring with us anything that we see and what we possess. We will not need it. We will need our good works and what we have done for others with our sacrifices. 
We may need only what we have done for our neighbor for the love of Christ. Therefore Our Lady always gives us hope. It wants us to prepare for this task. It means that this world is ephemeral and that on this earth we are only passing through. Our country is with you and we want one day to get there where you are.
What else do you want to say at the end of this conversation?
In these days we must strive in a special way to devoutly await the resurrection of Jesus, but not only His resurrection, but also our personal resurrection, for true joy and true happiness will be when we can say: "Thank you, Jesus, for the love you have given us ". 
The whole family should experience Easter as a feast of joy, and in order that this may be possible, the family must reign in prayer, forgiveness, personal self-denial, and do not buy clothes.
To all those who suffer, I would like to say that in these days they must carry with love the gift of the cross. I will pray for Our Lady to be as close to them as possible and to extend her motherly hand upon them to give them the strength to go forward.With love, your Vicka.
(interview with vd) Source text and images: MEDJUGORJE AN INVITATION TO PRAYER MARIA REGINA DELLA PACE n.76 
. 

Please follow and like us:
---
---
---