BIBLICAL SIGNS: Jerusalem Day: Israelis clash with Palestinians on Temple Mount ahead of charged week (With video)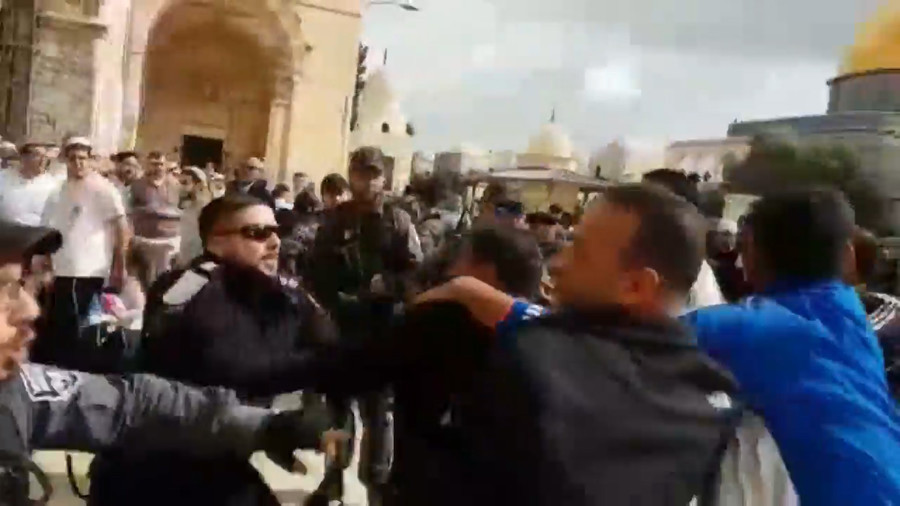 Violence erupted between Israelis and Palestinians at the holy site of Temple Mount in East Jerusalem on Sunday, as hundreds of Jewish worshippers descended on the area for Jerusalem Day.
Footage posted by RT's video agency Ruptly shows police breaking up a fight between a group of Arab and Jewish men. Clashes reportedly began after around 1,000 Israelis moved towards Temple Mount with Star of David flags, chanting Jewish songs.
Jewish visitors were removed from the site for praying and bowing in contravention of regulations that ban all non-Muslims from praying in the grounds of the Al-Aqsa Mosque. At least one person was arrested on suspicion of bowing, reported the Jerusalem Post.
Several religious boys bow down and say the Shema prayer on the Temple Mount, contravening the police ban on non-Muslim prayer at the site. Those who bowed were removed from the Temple Mount by police.
Jerusalem Day is an Israeli national holiday marking the establishment of the Jewish state's control over the Old City and East Jerusalem in 1967. Temple Mount is the holiest site in Judaism and the third-holiest site in Islam.
The clashes come ahead of what's expected to be an explosive week for the region. On Monday, the US embassy will make the contentious move from Tel Aviv to Jerusalem, while on Tuesday, Palestinians will observe Nakba Day – a commemoration of the forced displacement of some 700,000 Palestinians. Huge demonstrations are expected to take place on both days.
Dozens of Palestinians have been killed and hundreds more injured by Israeli Defence Forces over the past six weeks, as demonstrators gathered every Friday at the Gaza-Israel border for the 'Great March of Return.'