Russia: US sanctions are 'economic war,' and all options are on the table to hit back
Russia says it would consider any US move to curb the operations of Russian banks or their foreign currency dealings a declaration of economic war.
The US announced a new round of sanctions on Wednesday targeting Russia that pushed the ruble to two-year lows and sparked a wider sell-off over fears Russia was locked in a spiral of never-ending sanctions.
"It would be needed to react to this war economically, politically, or, if needed, by other means," Russia's prime minister said. "And our American friends need to understand this."
---
MOSCOW — Russia would consider any US move to curb the operations of Russian banks or their foreign currency dealings a declaration of economic war, Prime Minister Dmitry Medvedev said on Friday.
The US on Wednesday announced a new round of sanctions targeting Russia that pushed the ruble to two-year lows and sparked a wider sell-off over fears Russia was locked in a spiral of never-ending sanctions.
Separate legislation introduced last week in draft form by Republican and Democratic senators proposes curbs on the operations of several state-owned Russian banks in the US and restrictions on their use of the dollar.
Medvedev said Moscow would take economic, political, or other retaliatory measures against the US if Washington targeted Russian banks.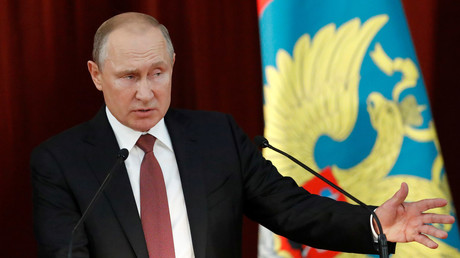 'No surprise if Moscow recalls ambassador': Russia will lash out against new sanctions, say experts
Medvedev noted that Russia has a long history of surviving economic restrictions and never caved in to the pressure in the past. "Our country had been living under constant pressure through sanctions for the last hundred years," Medvedev said, accusing the US and its allies of employing sanctions to undercut global competition. "Nothing has changed."
The prime minister said that by targeting Russia's gas exports to Europe, Washington wants to push its own LNG shipments to the continent. "It's an absolutely nonmarket anti-competition measure aimed at strangling our capabilities."
Medvedev pointed out that the US is simultaneously imposing tariffs on China. "The Chinese, obviously, don't like it. No one does. And our goal is to resist all these measures."
On Wednesday, the US State Department announced a new round of sanctions targeting Russian exports of dual-purpose electronics and other national security-controlled equipment, which will come into effect on August 22.
The stated reasoning behind the latest punitive actions are accusations leveled against Russia over the Sergei and Yulia Skripal poisoning back in March, which the UK and its allies pinned on Moscow without due investigation. Washington subsequently accused Moscow of breaking the 1991 international law against chemical and biological warfare.
The Kremlin has repeatedly denied the allegations, while the UK authorities have provided no proof of Russia's involvement in the case. Furthermore, Moscow has eliminated all stockpiles of its chemical weapons under international obligations, unlike the US, which has still to honor its commitment.
While Russia reserved the right to retaliate against new trade restrictions, the US threatened to intensify sanctions within three months, by potentially cutting off nearly all exports and imports and banning Russian airline Aeroflot from flying to the US.
To avoid further pressure, Washington demands that Moscow confess and provide "reliable assurances" that Russia will not use chemical weapons in the future. The US also seeks to have "on-site inspections" of alleged chemical production facilities, which Russia has already shut down.