How long does a soul remain in Purgatory? Padre Pio and St. Augustine Provide Answers
The penalties of Purgatory are not eternal (as are those of hell): they will definitively cease the day of the Last Judgment.
As for the temporal punishments due to sin, St. Augustine says, "some suffer all in this world; others in the other world; some still suffer part of it in this world and part of it in the next world. But all are free at the Last Judgment." Since the duration of Purgatory is determined by the impurity in which the soul is found in the personal encounter with God at the end of earthly life, there may be those who just touch it and those who remain there for very long years.
The practice of the Church promotes the Pie Foundations and the Perpetual Masses, and this makes us think about the possibility of a very long duration of those difficult punishments. If we reflect on the way in which most men live, we must believe that purification in the other life cannot be short or light.
In fact, they are seen to commit unscrupulous sins and venial sins, as well as many mortal sins. Many also boldly lead licentious life and continue in their disorders until the late old age, in which then, both for the weakness of age, both for the bad habits inveterate, more can not give themselves to prayer and penance.
Death thus arrives and they believe they have done a lot, when they have barely decided to ask God for forgiveness and to confess their sins.
How can one believe that one-hour repentance can make a long life of sin holy? …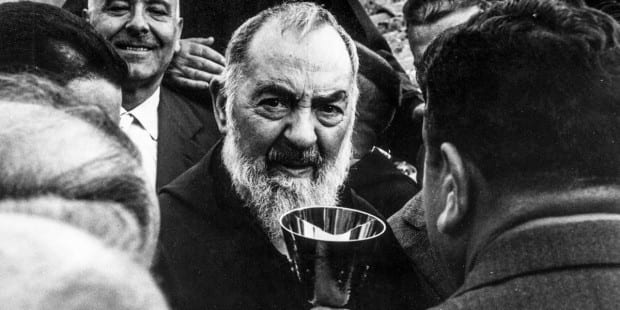 Padre Pio had many apparitions of purgative souls.  They asked him for help particularly with at Holy Mass to be able to leave Purgatory. One day Padre Pio celebrated Holy Mass in suffrage of the father of one of his confreres. That morning the father's soul entered Paradise. The brother was very happy, and yet he said to Padre Pio: "But, Father, my good father died thirty-two years ago!"
"My son," replied the Father, "everything is paid before God!" The lives of the saints abound with these salutary examples that can not be rejected en bloc, without throwing the discredit on the Church itself, which, by canonizing the saints, implicitly accepted life and facts.
According to their experiences, we must say that the duration of Purgatory is ordinarily very long, even if always proportionate to the number and severity of the faults committed. In fact, St. Augustine says: "He who grows old in sin will take more time to cross that river of fire and, to the extent of his guilt, the flame will increase the punishment."
We pray for our dear Dead.
---
Usually, Medjugorje Visionary Jacov is quite taciturn with his talks to pilgrims. This day Jacov gave a surprising answer about what happens in Purgatory.
Jakov then invited some questions:
Q: How does conversion please Our Lady.
A: Conversion is to place God in the very first place in our lives. If we have God then we have everything, then we have answer for everything we are looking for. God will always give us signs what we should do, That means we will know which is the right way to follow, what we have to do. That is conversion. That kind of a conversion Our Lady is asking from us. We should ask ourself if we are converted enough? If conversion so far is pleasing Our Lady? Everyday we should thank to God, for every new day because that is a chance for us to be better. I always say to God 'thank you God for this day, because that is one more chance for me that I become better'
Q: Do souls suffer badly in purgatory?
A: I think that they suffer. Our Lady has been inviting us that we should pray for the souls in purgatory because they are in need of our prayers. Then for certain that they are suffering. But what we can do for them is pray daily for them. Our Lady gave a mission to Marija the visionary that she should pray everyday for the souls in purgatory. So all of us should pray everyday for the souls in purgatory.