Revealed: Satellite images which Ukraine say proves Russia is amassing its army on the borders, prompting fears of an invasion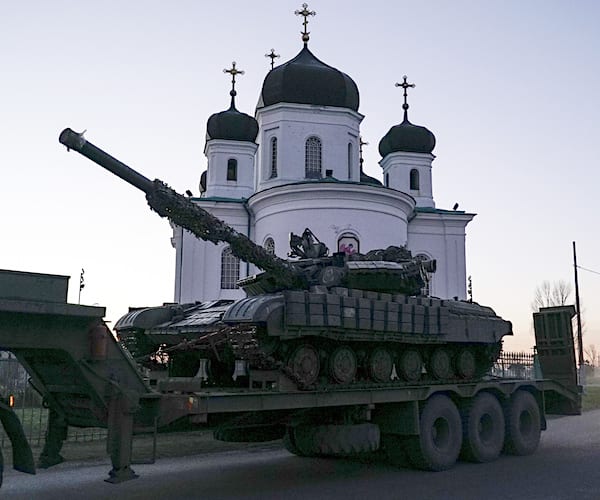 Revealed: Satellite images which Ukraine say proves Russia is amassing its army on the borders, prompting fears of an invasion
Satellite images allegedly show hundreds of tanks at Russian military base
They were reportedly taken in November, just 11 miles from Ukrainian border
Poroshenko claimed last month that Russia is scrambling army at the border
He has accused Russia's Vladimir Putin of wanting to annex his whole country
---
Satellite images appearing to show hundreds of Russian tanks just 11 miles from the Ukrainian border have emerged ten days after President Petro Poroshenko warned that Moscow is scrambling its army on his doorstep.
The images were reportedly taken by Google Earth satellites last month, and shows the Russian military base in Kamensk-Shakhtinsky, near Ukraine's eastern border.
Last month, President Poroshenko showed satellite images of the same base, which indicated that more tanks had arrived in recent months.
'Proof: Satellite imagery from Google Maps reportedly taken in November appears to show a heavy build up of Russian tanks 11 miles from the Ukrainian border
The photos of the Russian military base show the many tanks, bottom right, as well as thousands of other military vehicles and equipment
The new satellite images show around 250 T-62 battle tanks and around one thousand military trucks, artillery systems and tankers at the base, according to the Defence Blog.
'This is 18km from my border, this is the same warehouse where they have their ammunition, the same where they have multi-rocket launch systems, we should be prepared to protect my country,' Poroshenko told Sky News.
Kiev has called for more Western sanctions against Moscow after Russian patrol boats fired at Ukrainian navy ships in the Azov Sea off Crimea. But the divided bloc is not going to act swiftly, if at all.
The 28 EU national leaders, who meet for a summit in Brussels on Thursday and Friday, are, however, due to decide to extend the bloc's existing sanctions that target Russia's defence, energy and banking sectors.
Germany's Haiko Maas said the situation in the Azov Sea remained unresolved as Russia was still holding the Ukrainian sailors. Berlin and Paris were seeking to ease tensions between Moscow and Kiev.
Fighting between Ukraine and Moscow-backed separatists in eastern Ukraine has killed more than 10,000 people since 2014 and small-scale but deadly exchanges of fire are still frequent.
Citing the Russian threat, Ukraine in November introduced martial law and banned Russian men of combat age from entering the country.
The EU has since released 500 million euros in financial assistance to Kiev but is split on whether to go ahead with any new economic sanctions, a move that would require unanimity of all 28 member states.
'We don't see yet any decision-making today on the table,' Austria's Karin Kneissl said when asked about more sanctions against Moscow following the sea incident.
On the other side of the spectrum is Lithuania, a leading EU hawk on Russia. Foreign Minister Linas Linkevicius said the Azov Sea standoff was a 'blatant violation of international law' by Russia and could not be left unanswered.
'I don't expect something to be decided today but sanctions relating to this topic must be on the table,' he told journalists.