Modern Day Mystic Describes Encounter with Jesus… Jesus Shows Mystic Door to Heaven Guarded by Angels
Excerpt from the life-changing book – TRANSFIGURED, about the amazing life of Patricia Sandoval, who will be a keynote speaker at Walk for Life West Coast-2019.

Fr. Donald Calloway, MIC, says of the book, TRANSFIGURED, "Are you ready to read one of the most powerful conversion stories ever written? Seriously, are you? I couldn't put this book down!" . . . The world, especially Catholics, need to read this story of redemption." Click here to learn more. Click here or on the image below to order.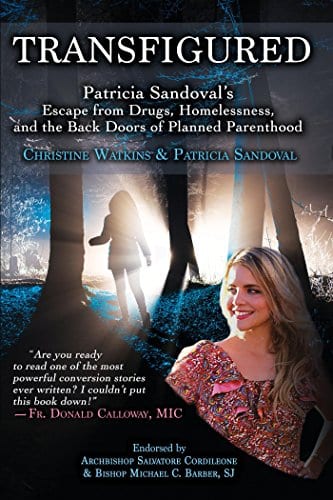 Chapter One of TRANSFIGURED: The Little Princess

When I was a toddler, my mother bought a large picture of the Sacred Heart of Jesus, and she hung it above the headboard in the master bedroom. In the image, which framed Jesus' head and chest, His exposed heart was wrapped in thorns and set
aflame by love. He looked alive, especially His eyes.
They seemed to penetrate my thoughts, my feelings. Jesus wasn't merely looking at me; He was looking through me, and followed my every move around the room. At times, I hesitated before entering my parents' bedroom, wondering if He
might tilt his head my way and call out my name. Fearfully, I would crawl on the floor, hoping to avoid His all-pervasive glare.

"Who is He?" I asked my mom incessantly, wanting to hear her answer over and over again.
"This is your Papi Dios (Daddy God) who takes care of you in heaven. He's with the angels," she'd say. Although she never prayed or went to church, my mom's belief in Jesus was genuine. Little did she know that her words would become a reality for her little girl.

One night at age three, as I lay awake in my bed, tummy down, I somehow knew that Jesus was waiting for me just outside of a high rectangular window close to the ceiling.

For reasons beyond my understanding, I could sense His arms extend toward me, although I didn't dare look up. My heart began to beat rapidly, but I didn't want Him to know that I felt scared. After all, He was Papi Dios, and I'd been taught not to be afraid of Him.
Eventually, I mustered the courage to twist my head farther to one side and glance upward. And there was Jesus, outside my window, smiling adoringly at me, His arms reaching right through the glass toward my tiny frame.
Caught up in his loving gaze, my body began to levitate off the bed. Unable to feel my little legs touching the bedcovers, I wanted to know if this floating sensation was real; still facing downward, I lowered my chin toward my chest to see the front of my white pull-up diaper and my white T-shirt.
Sure enough, my legs weren't touching the bed—nor was any other part of me.
I was hovering face-down in midair. Amazed, I turned my head to the left and saw my five-year-old sister in her twin bed across the room, tossing and turning in her sleep. "Oh my gosh," I told myself, "this is real." I knew I couldn't be dreaming or outside of my physical body or my room because I was clearly still
in them.

Slowly, delicately, my body began to float upward toward the window. My little palms started to sweat and my heart seemed to stop, as if I were at the crest of a roller coaster. Scared and confused, I remained face down, eyes bulging, looking at my sister, wondering why she wasn't floating too.

Then my body changed to a sitting position, facing Jesus.
As I floated closer to Him, I noticed fresh wounds in the center of Jesus' upturned palms. Then I saw His gown, made of three dark, rich, and shiny colors: a magnificent gold covering His torso, an intense forest green draping around his left arm, and a dark, burgundy red swooping across His right.
Last, I noticed His hair: brown, wavy, falling a little past his shoulders. Each aspect of his appearance was perfectly clear. The glass in the window had disappeared.
. . . Jesus said, "Let the children come to me, and do not prevent them;
for the kingdom of heaven belongs to such as these."
—Matthew 19:14
Ms. Sandoval is now a renowned, full-time international pro-life and chastity speaker inspiring thousands with her harrowing and exhilarating story of redemption. Ms. Sandoval has shared her story through media outlets worldwide, such as EWTN's Cara a Cara, Women of Grace, Life on the Rock, EWTN Bookmark, and now has her own show on EWTN called De Dos en Dos. Young and old travel for hours, sometimes across country lines, not only to hear Ms. Sandoval's testimony.