Medjugorje – The Miracle Rainbow Around the Sun – Video
At that time, Mass was being celebrated in Italian, in Medjugorje. It was September 27, 2016 and, as we hear, the priest was giving the audience the final blessing, through the intercession of the Queen of Peace. Above the heads of the faithful, who were outside the hall named after John Paul II, the sun is clearly visible, surrounded by a rainbow garland. Can anyone say that it is a usual phenomenon, to which we are all accustomed to assist, in the skies of our cities?
Antonella Sanicanti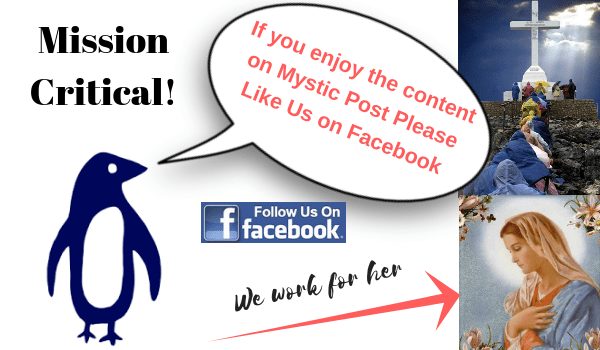 Please follow and like us:
---
The world is under attack and Mystic Post is facing real difficulties right now.

We need your help spreading the messages of the Queen of Peace.

We work very hard for Our lady every day.

Helping to Spread Our Lady's message of the coming of Her Triumph is our Mission
Satan is attacking her plans for peace and salvation for the world like never before.








God Bless you and thank you for your support and help...Stephen Ryan Founder of Mystic Post