Visionary: "Our joy is eternity"…Even if our life is an "earthquake".."Our Lady looks at us with the eyes of Heaven, not with those of the Earth."


P. Livio: I would like to say that in life you can live many joys, but, I do not know how to tell you, they are small joys of this world. But if you pray with your heart, although for a few minutes, in silence, you feel His presence, you feel a joy of Paradise. Truly Marija?
Marija: Yes, it's true. If we have God in our hearts, even if we shake off any earthquake in our life, we will also maintain joy, because ours is a joy of eternity. I believe that the Virgin, in all these years, has placed her shadow in my heart and in many others. I say that when the Virgin looks at us, it is the Heaven that contemplates us. She looks at us with the eyes of Heaven, not with those of the Earth. The Virgin has an immense joy despite being also on the Cross, having lived the Passion of her Son Jesus, but She, with the eyes of Heaven, sees everything in a different way. Our Lady wants to help us, she wants to encourage us to obtain that happiness.
Source: Interview with Marija by P. Livio to comment on the Message of May 25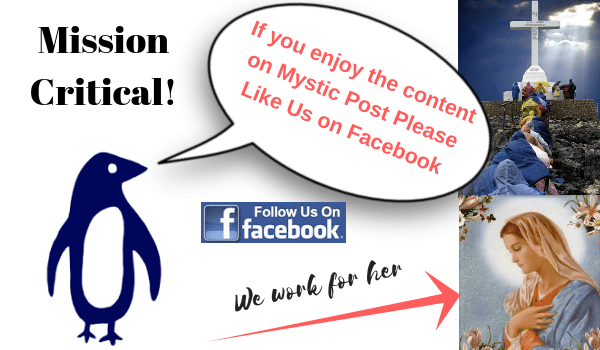 Please follow and like us:
---
The world is under attack and Mystic Post is facing real difficulties right now.

We need your help spreading the messages of the Queen of Peace.

We work very hard for Our lady every day.

Helping to Spread Our Lady's message of the coming of Her Triumph is our Mission
Satan is attacking her plans for peace and salvation for the world like never before.








God Bless you and thank you for your support and help...Stephen Ryan Founder of Mystic Post