Medjugorje: The Queen of Peace's little known special request – "I want you to pray, in a special way, for the salvation of those people who are carrying this miraculous medal. I want you to spread the devotion and the carrying of this medal" July 13, 2019
This letter originally appeared on MedjugorjeUSA.org
Did you know Our Lady at Medjugorje ask us to spread the carrying and devotion of the miraculous Medal throughout the world?
Dear Friends,
On Nov. 27, 1989 Our Lady of Medjugorje gave a message to Ivan's prayer group at the Blue Cross. Here is an account of the apparition and Our Lady's message, as recorded by Nedjo Brecic, the founder of our prayer group: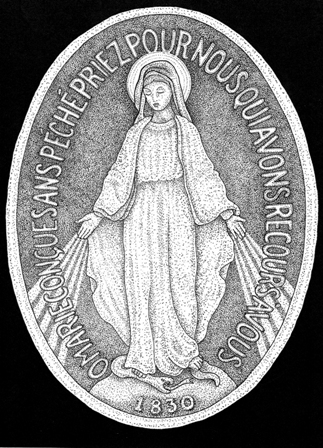 The following happened on Monday 27 November 1989. The meeting was only for the prayer group, at Blue Cross at 10 pm. This message was given to Marija, who was standing in for Ivan. Our Lady came joyful and she said:
"These days, I want you to pray in a special way for the salvation of souls. Today is the feast day of the miraculous medal, and I want that you pray, in a special way, for the salvation of those people who are carrying this miraculous medal. I want you to spread the devotion and the carrying of this medal, so that more souls may be saved, and that you pray in a special way."
Today, November 27, is the feast of the Miraculous Medal. It marks 181 years since Our Lady appeared to Saint Catherine Laboure on November 27, 1830, and gave her the Miraculous Medal.
Also, here is a link to an EWTN webpage which will take you to what I consider the best book written on St. Catherine Laboure of the Miraculous Medal. This online book, written by Fr. Joseph Dirvin, can be read on screen, in its entirety, for free.
The URL address for this online book is:
http://www.ewtn.com/library/MARY/CATLABOU.HTM

Please follow and like us:
---
The world is under attack and Mystic Post is facing real difficulties right now.

We need your help spreading the messages of the Queen of Peace.

We work very hard for Our lady every day.

Helping to Spread Our Lady's message of the coming of Her Triumph is our Mission
Satan is attacking her plans for peace and salvation for the world like never before.








God Bless you and thank you for your support and help...Stephen Ryan Founder of Mystic Post