Our Lady of Carmel Revealed the power of the sacred object: The scapular protects against Satan and the eternal fire
The scapular consists of a piece of cloth on which sacred images are applied.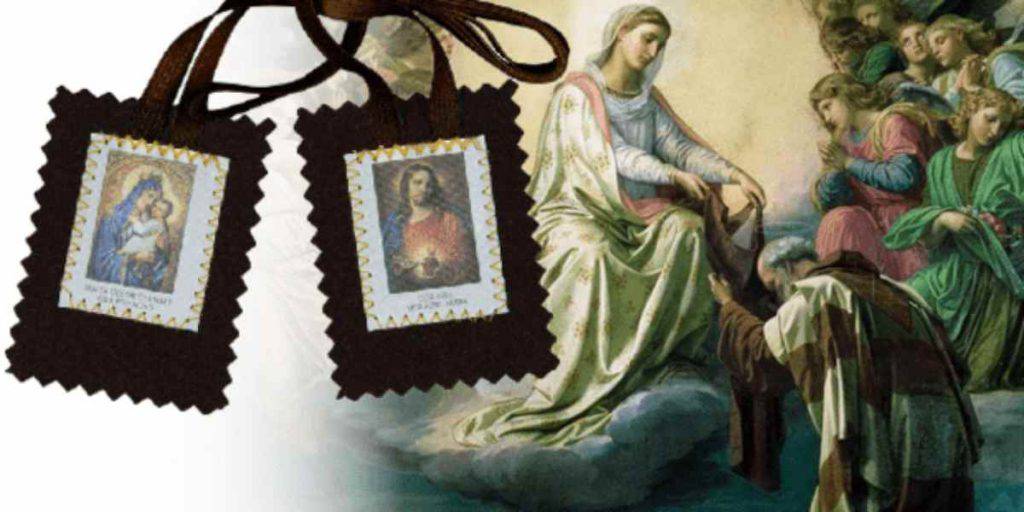 It is not the first time that we talk about the scapular of the Blessed Virgin of Mount Carmel and of miracles distributed to those who wear it with faith.
We know that to the Prior of the Carmelite Order, Simone Stock (1165c.a.-1265, today Blessed), this promise was made by the Madonna herself: "Take, beloved son, take this scapular of your Order, a hallmark of my Brotherhood , privilege to you and to all the Carmelites. He who dies in this habit will not suffer eternal fire; this is a sign of health, of safety in dangers, of a covenant of peace and of a covenant of eternity ". 
Our Lady thus revealed all the power of that sacred object and, like any other invocation to Mary, even the scapular is, therefore, a very effective means against evil.
The scapular defended a saint from the devil
It is said that one day, Father Francis Ypes (today Venerable) saw that his scapular (the original mantle, from which the sacramental was subsequently obtained, symbolically) had fallen to the ground.
When he took it to put it back in place , he heard himself say, from a demonic voice: "Throw away that mantle that pulls so many souls out of Hell!"
Father Francis Ypes questioned that evil spirit, which confirmed that Satan and his followers are alarmed and estranged when they are listening to the Most Holy Name of Jesus, the Most Holy Name of Mary and are placed in the presence of the scapular of the Blessed Virgin of Mount Carmel .
The means, therefore, to counter the evil are there, even if, unfortunately, not all Christians know its use and effectiveness.
It is also wise to remember that sacred objects are not amulets and are worthless without prayer, without a life conducted in the Sacraments of Confession and the Eucharist, especially.
Antonella Sanicanti

Please follow and like us:
---
The world is under attack and Mystic Post is facing real difficulties right now.

We need your help spreading the messages of the Queen of Peace.

We work very hard for Our lady every day.

Helping to Spread Our Lady's message of the coming of Her Triumph is our Mission
Satan is attacking her plans for peace and salvation for the world like never before.








God Bless you and thank you for your support and help...Stephen Ryan Founder of Mystic Post