30th Youth Festival in Medjugorje: "Breathtaking Stuff!… In front of the eyes of 800 priests, an oceanic crowd gathered in a contemplative silence that touched the deepest strings of our soul." August 8, 2019
What happened during the last evening of the 30th Youth Festival in Medjugorje? We experienced an emotion that will remain etched in our hearts.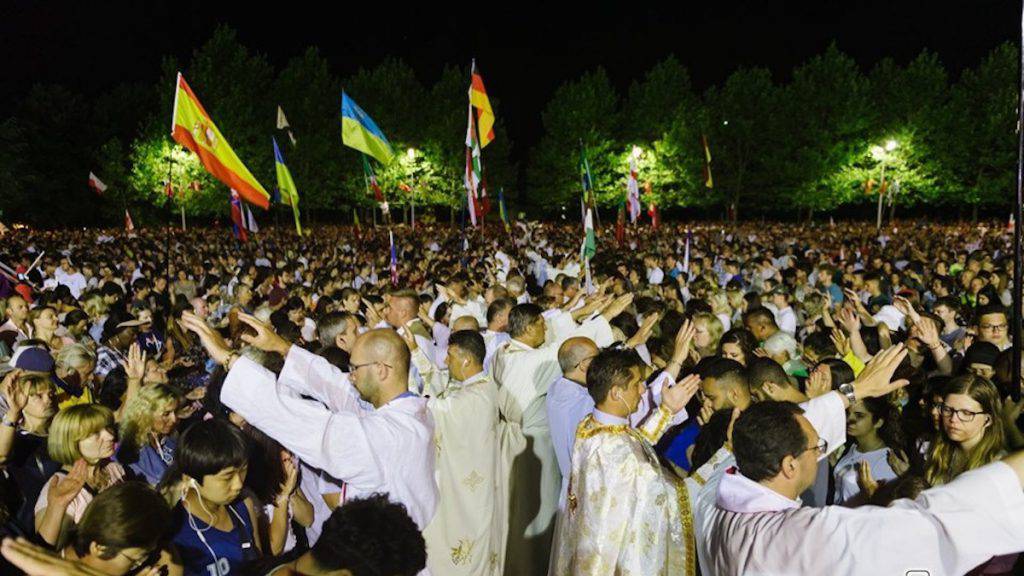 It took place during the adoration of the Blessed Sacrament led by the parish priest, Father Marinko Sakota. On the evening of Monday 5 August, the last of the Youth Festival 2019, almost 800 priests attending the prayer program in the church of San Giacomo, (of which 714 were concelebrants and 60 were committed by the confessionals), went down the esplanade in front of the external altar . Here tens and tens of thousands of people, I cannot quantify, perhaps 90,000, have gathered in absolute silence.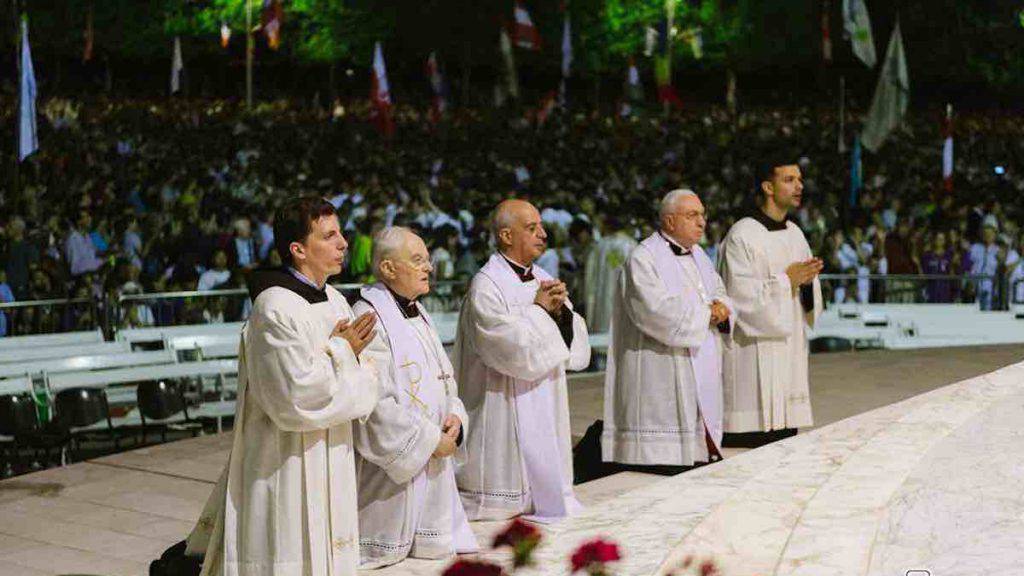 A show of rare beauty!
The priests, at a certain point, split and formed seven rays, as if to represent the extension of the rays of the monstrance . And all together with outstretched arms and hands imposed on the faithful, they imparted the blessing. The three archbishops, Mgr. Henryk Hoser , Mgr. Rino Fisichella, Mgr. Luigi Pizzuto, are located immediately below the altar. In front of them an immensity of young people gathered in prayer in a composed silence, preserved even though they had been there for some hours. An awesome show! It was followed by about 2,800,000 people in streaming, plus a large number on the TV channels of many countries, including Italy.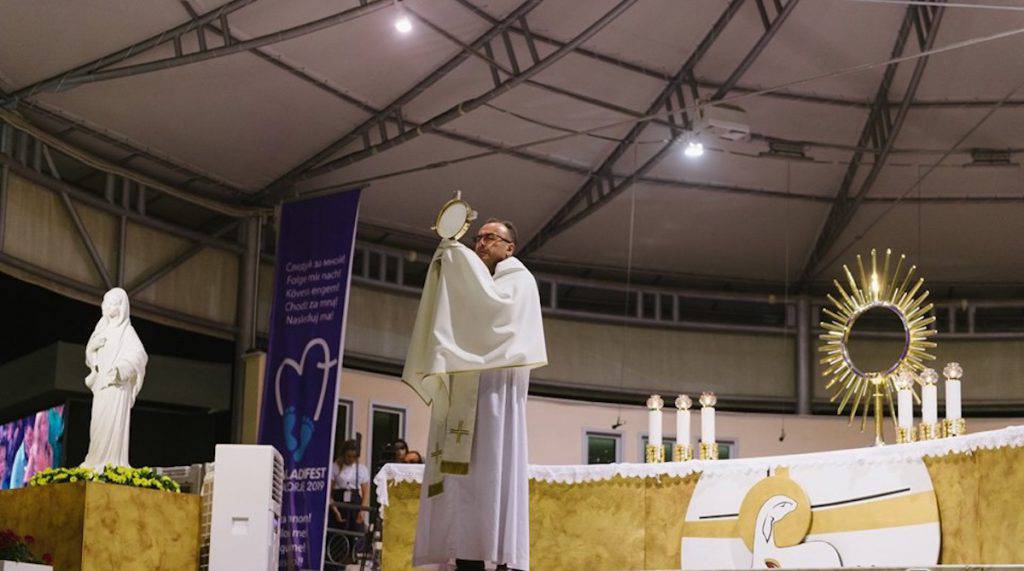 At the end, Father Marinko Sakota elevated the Blessed Sacrament for a few minutes. It was as if time had stopped. It seemed to be suspended between Heaven and Earth .I wondered what emotions passed into the hearts of all the shepherds at that time. In front of their eyes, an oceanic crowd gathered in a contemplative silence that touched the deepest strings of our soul. A surreal atmosphere that evoked Heaven, of an intensity to take your breath away! And at the end of the Holy Sacrament, the notes of Back-Gounod's Ave Maria resounded in the air, dedicated to the One who called us all here and made an event of such magnitude, of such beauty possible!
Medjugorje: thank you Mary!
On the day her birthday was called, (according to what she told us in her message of August 1st, 1984, "Next August 5th we celebrate the second millennium of my birth"), she gave the gift to us, as always after all. Thank's Maria! Thank you for the gift of your pastors, for the priests, the bishops, the cardinals present here at the Youth Festival 2019 .We will never be able to reciprocate You and Jesus for all that you have given us, but welcome it with gratitude and rejoice in it, yes!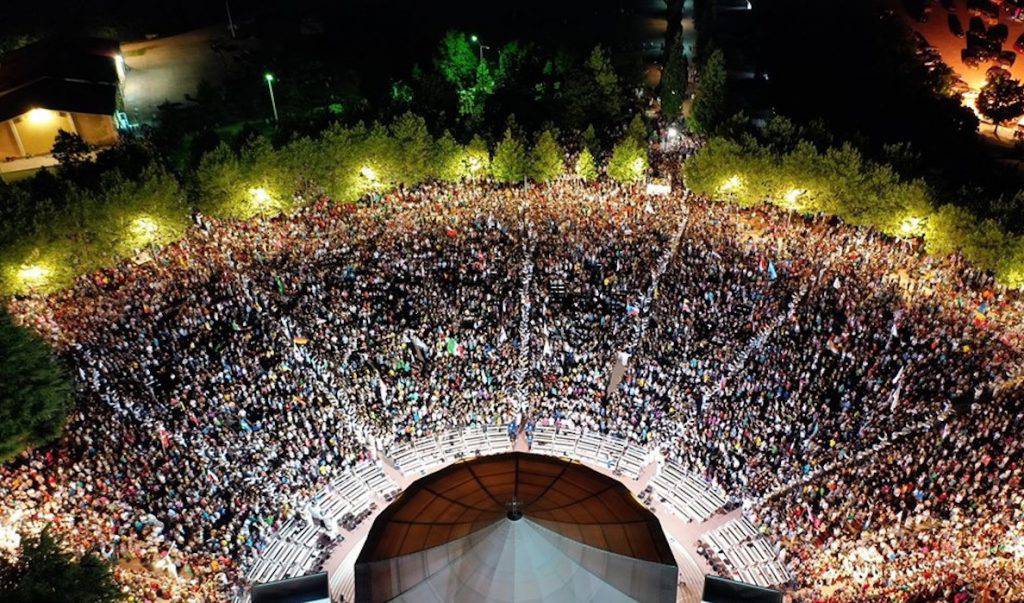 The 30th edition will remain indelible in our hearts, because it marked a turning point in the history of Medjugorje. We breathed an air of unity, a sense of Church, of one great family, of which we are sons and daughters, not for merit but for love. The motto of this "Seguimi" Festival can remain in our hearts. It is up to us to guard it and live it once we return to our homes, to our daily lives, with the Eucharist, especially the prayer of the Rosary, the Word, Confession and Fasting.

Since you're here …
… we have a small favor to ask. God is everywhere—even in the news. That's why we view every news story through the lens of faith. More people are reading Mystic Post than ever but advertising revenues across the media are falling fast. And unlike many news organisations, we haven't put up a paywall – we want to keep our journalism as open as we can. So you can see why we need to ask for your help. Mystic Post's independent journalism takes a lot of time, money and hard work to produce. But we do it because we believe our perspective matters – because it might well be your perspective, too.
If everyone who reads our reporting, who likes it, helps to support it, our future would be much more secure.
Thank you