Medjugorje: In recent message to Ivan on Apparition Hill : "Pray for my plans for the world that I wish to achieve with my coming"…Message to Mirjana – "your life is only a blink in contrast to eternal life."
Dear friends, this is what Ivan communicated about the apparition he had tonight, Friday 17 May 2019, at the Blue Cross at 10:00 pm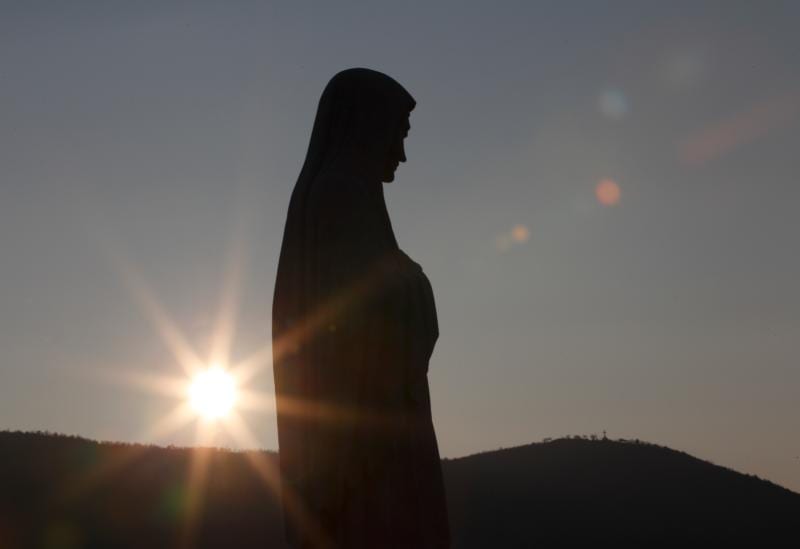 "Even today, as every day after the meeting with Our Lady, I would like to approach and describe to you what is more important than tonight's meeting. Even today Our Lady came to us very joyful and happy. She greeted us all with his motherly greeting: "Praised be Jesus, my dear children!"
Then she stretched out her hands here and prayed over us all, prayed especially about all of you who are sick.
Then she said: "Dear children, also today I call you in a special way: pray for my intentions, for my plans for the world that I wish to achieve with my coming. Pray especially for pastors, for the Church, for the strong faith of priests.Thank you, dear children, for having responded to my call today. "
Then Our Lady blessed us with her motherly blessing and blessed everything you brought for being blessed. As always, even today I have recommended all of you: your needs, your intentions, your families.
Then Our Lady prayed for a period of time especially for peace in families. Then she left in prayer, in the sign of light and of the cross, with the greeting: "Go in peace, my dear children!" ».
Ivan Dragicevic was born on 5/25/65 to Bijacovic, has been married to Laureen Murphy since 1994 and has four children.The intention entrusted to him by the Virgin is to pray for the young and priests. 
His life changed after the little Madonna appeared to him as a teenager: he was 6/24/1981 he was only 16 years old.
IVAN OF MEDJUGORJE
He was a shy boy, introverted and taciturn, but thanks to this experience, he manages to overcome shyness, bringing his testimony all over the world.
Ivan travels a lot to talk about his extraordinary experiences.Today he divides his life between Boston and Medjugorje where he can meet him between May and September, when he often offers his testimony around 8 am in the Parish.
He has daily appearances wherever he is and has received nine secrets. At home, his family participates in the apparitions, reciting the S. Rosario while waiting and praying. At the end Ivan tells them what Our Lady said and did.

Medjugorje Message, August 2, 2014 – Apparitions to Mirjana
"Dear children, the reason that I am with you, my mission, is to help you for 'good' to win, even though this does not seem possible to you now. I know that you do not understand many things as I also did not understand everything, everything that my Son explained to me while he was growing up alongside me – but I believed him and followed him. I ask this of you also, to believe me and to follow me. However, my children, to follow me means to love my Son above everything, to love him in every person without making differences. For you to be able to do this, I call you anew to renunciation, prayer and fasting. I am calling you for the Eucharist to be the life of your soul. I am calling you to be my apostles of light who will spread love and mercy through the world. My children, your life is only a blink in contrast to eternal life. And when you come before my Son, in your hearts he will see how much love you had. In order to spread love in the right way, I am asking my Son, through love, to grant you unity through him, unity among you, unity between you and your shepherds. Through them my Son always gives himself to you anew and renews your soul. Do not forget this. Thank you. "
Since you're here …
… we have a small favor to ask. God is everywhere—even in the news. That's why we view every news story through the lens of faith. More people are reading Mystic Post than ever but advertising revenues across the media are falling fast. And unlike many news organisations, we haven't put up a paywall – we want to keep our journalism as open as we can. So you can see why we need to ask for your help. Mystic Post's independent journalism takes a lot of time, money and hard work to produce. But we do it because we believe our perspective matters – because it might well be your perspective, too.
If everyone who reads our reporting, who likes it, helps to support it, our future would be much more secure.
Thank you