Signs – Medjugorje: Extraordinary message to Ivan, evening of Friday October 18, 2019: 'I want to stress that Our Lady prayed a lot for peace in the world!'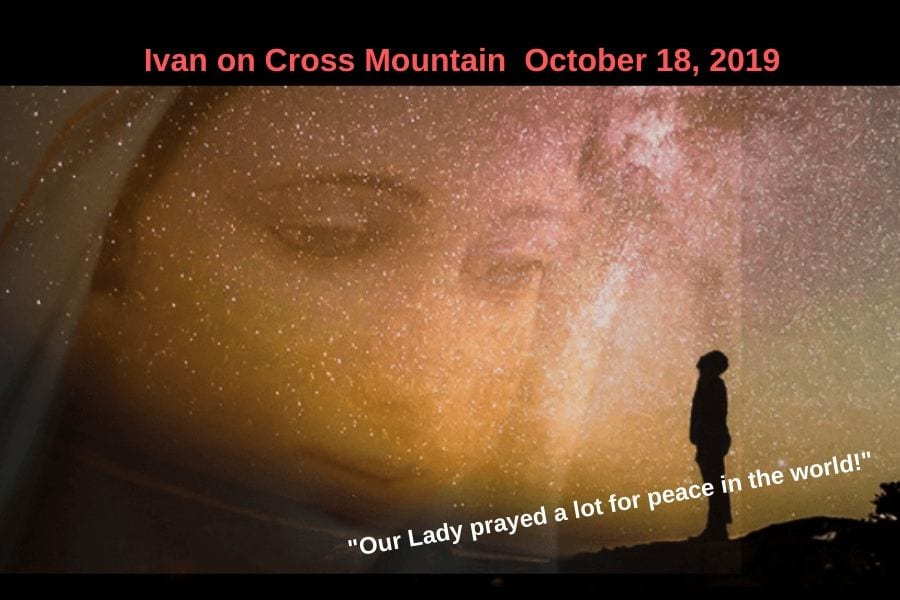 Here is what Ivan told us about the appearance he had tonight, Friday , October 18, 2019, at the blue cross, at 10:00 pm.
"Also today I would like to briefly describe the meeting tonight with the Madonna. Also today Our Lady came to us very joyful and happy, and greeted us all with her maternal greeting: "Praised be Jesus, my dear children!" Then she prayed here about all of you sick people present. Then she prayed over us all with her hands extended. Today Our Lady has paused to pray for a prolonged time especially for peace, for peace in the world. She also invites us, especially at this time, to pray for peace.
Then she gave us her motherly blessing and blessed everything you brought for her to be blessed. Then I have recommended all of you: your needs, your intentions, your families and in particular all of you, priests present, and your intentions.
Then Our Lady continued to pray here about us all and in this prayer she left, in the sign of light and of the cross, with the greeting: "Go in peace, my dear children!"
I would like to stress again that Our Lady prayed for a prolonged time for world peace ".

---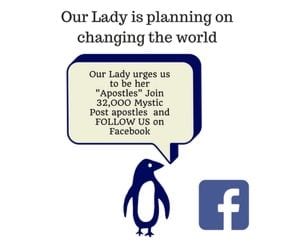 ---
We can re-read the last messages to Ivan, which we have summarized below.
Appearance of Friday 4 October 2019
"Even today Our Lady came to us very joyful and happy. He greeted us all with his motherly greeting: "Praised be Jesus, my dear children!" Then she turned to all of us with these words:
"DEAR CHILDREN, EVEN TODAY I INVITE YOU IN A SPECIAL WAY TO RENEW YOUR FAMILY PRAYER. PRAY, DEAR CHILDREN, AND GROW IN HOLINESS. SO THAT YOUR SANCTITY IS COMPLETE, PRAY! LEAVE THE TRANSITORETY OF THE WORLD, BECAUSE IT AWAKENS YOU FROM MY SON'S LOVE. HE LOVES YOU, AND I LOVE YOU WITH THAT LOVE. PRAY, BE PERSEVERING IN PRAYER! KNOW, DEAR CHILDREN, THAT WHEN YOU CROSS THE MOMENTS FOR YOU MORE DIFFICULT, THEY ARE WITH YOU, YOU ARE CLOSE! THANKS, DEAR CHILDREN, TO HAVE ALSO TODAY ANSWER TO MY CALL ".
Without your charitable GIFTS it would be hard to continue spreading Heaven's messages. Please consider helping us keep the site going strong. Thank you and may God Bless you all.