Medjugorje November 4, 2019: Did Our Lady's Most Recent Message Send a stearn warning to Critics of the Catholic Church — Our Lady says: "Judge no one!" ..Is the Church really "currently experiencing one of the greatest crises which she has ever known."?
Today, even casual followers of Catholic news are aware of the turmoil surrounding the Church in general and the papacy in particular. "Confusion" seems to be the word of the day when it comes to understanding the daily controversies. Cardinal Burke has been particularly vocal with his views of the current state of the Church:
DETROIT, November 1, 2019 (LifeSiteNews) — Cardinal Raymond Burke told a sold-out Catholic conference in Detroit last weekend that "there is no question that the Church is currently experiencing one of the greatest crises which she has ever known."
"Today perhaps as at no time in the past there is an ever more diffuse phenomenon of general confusion and error regarding doctrine and morals within the Body of Christ," he told the crowd of 800 at the Oct. 26 Call to Holiness conference in a talk on "Keeping the faith in a time of confusion." And a "frightening manifestation of the gravity of the situation" is the Amazon synod's working document, which "constitutes an apostasy from the apostolic faith by its denial of the unicity and universality of the redemptive Incarnation of God the Son," added the cardinal.
---
What are we to make of all this – Is the Church as divided as some say it is? Or is Satan the great divider – the Diablos – at work? Mystic Post looks to Our Lady's "Five Stones" for protection and guidence and Our Lady's messages always gives us hope.
In the most recent message it seemd the Queen of Peace had a stearn message for the world: Read the the most recent message from November 2, 2019: "Judge no one!"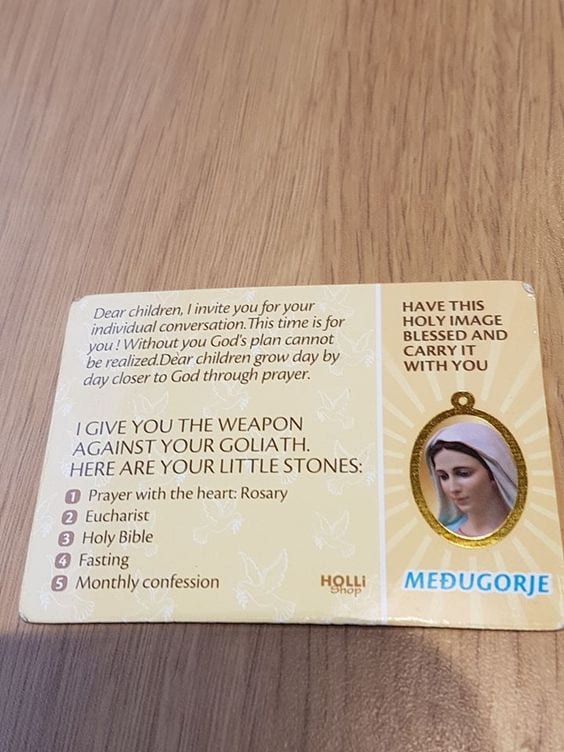 NOVEMBER 2, 2019 MESSAGE TO MIRJANA
Dear children, my beloved Son always prayed and glorified the Heavenly Father. He always said everything to Him and trusted in His will. This is what you, my children, should also do, because the Heavenly Father always listens to His children. One heart in one heart – love, light and life.
The Heavenly Father gave Himself through a human face, and this face is the face of my Son. You, apostles of my love, you should always carry the face of my Son in your hearts and your thoughts. You should always think of His love and His sacrifice. You should pray to always feel His presence, because, apostles of my love, that is the way for you to help all those who do not know my Son, who have not come to know His love.
My children, read the book of the Gospel. It is always something new, it is what binds you to my Son who was born to bring the words of life to all of my children and to sacrifice Himself for all. Apostles of my love, carried by the love for my Son, bring love and peace to all of your brothers. Judge no one. Love everyone according to the love for my Son. In this way, you will also be caring for your soul, and it [your soul] is that which is most precious, which truly belongs to you. Thank you. "