Medjugorje: Our Lady says Open your eyes — "Go on the streets of the city, count those who glorify God and those who offend Him. God can no longer endure that … it is not possible to avoid entirely the chastisements"
Our Lady the Queen of Peace July 21, 1982
Concerning Purgatory: "There are many souls in Purgatory. There are also persons who have been consecrated to God – some priests, some religious. Pray for their intentions, at least the Lord's Prayer, the Hail Mary, and the Glory Be seven times each, and the Creed. I recommend it to you. There is a large number of souls who have been in purgatory for a long time because no one prays for them.
---
Concerning the eighth secret, Mirjana is frightened and prays to Our Lady for mercy on mankind: "I have prayed; the punishment has been softened. Repeated prayers and fasting reduce punishments from God, but it is not possible to avoid entirely the chastisement. Go on the streets of the city, count those who glorify God and those who offend Him. God can no longer endure that."
---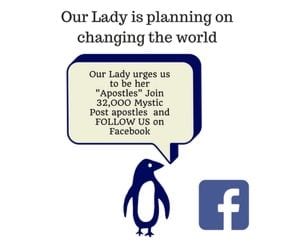 Become an Apostle of Our Lady and Join 80,000 others who bring the light of Medjugorje into the world each day. Join Us on Facebook at Mystic Post,Medjugorje Today or Children of Mary
---
November 6, 1982
---
---
Other early interesting messages
July 21, 1982
Concerning Fasting: "The best fast is on bread and water. Through fasting and prayer, one can stop wars, one can suspend the laws of nature. Charity cannot replace fasting. Those who are not able to fast can sometime replace it with prayer, charity, and a confession; but everyone, except the sick, must fast."
July 24, 1982
"You go to Heaven in full conscience: that which you have now. At the moment of death, you are conscious of the separation of the body and soul. It is false to teach people that you are reborn many times and that you pass to different bodies. One is born only once. The body, drawn from the earth, decomposes after death. It never comes back to life again. Man receives a transfigured body."
Regarding a question asked about being bad all ones life and asking forgiveness: "Whoever has done very much evil during his life can go straight to Heaven if he confesses, is sorry for what he has done, and receives Communion at the end of his life."
---

Please follow and like us:
---
The world is under attack and Mystic Post is facing real difficulties right now.

We need your help spreading the messages of the Queen of Peace.

We work very hard for Our lady every day.

Helping to Spread Our Lady's message of the coming of Her Triumph is our Mission
Satan is attacking her plans for peace and salvation for the world like never before.








God Bless you and thank you for your support and help...Stephen Ryan Founder of Mystic Post