A World-wide Masonic attack has struck the Miraculous Medal —Many have been infected with Masonic symbols! How to distinguish authentic ones from false ones – …Powerful Prayer to the Miraculous Medal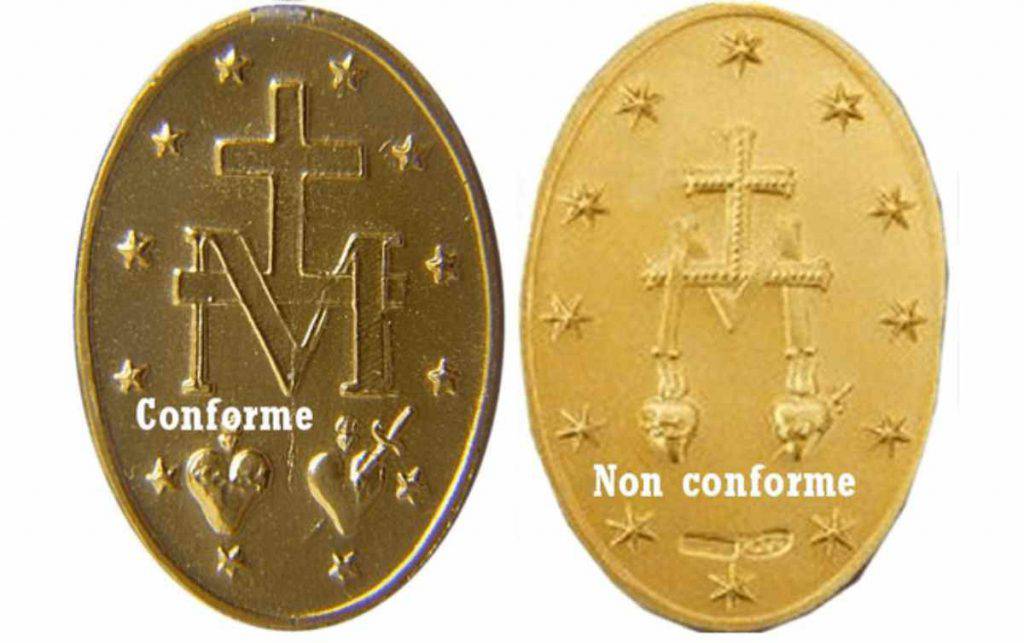 It was June 18, 1830, when Sister Catherine Labouré had the first appearance of the Virgin. "So, I jumped to get closer to her, and I knelt on the altar steps, with my hands resting on Maria's knees. The moment, which I spent like this, was the sweetest of my whole life ".
The authentic Miraculous Medal
On November 27th of the same year, then, while praying, Sister Catherine saw, gradually, under her eyes, the image that we all know today of the Madonna printed on the Miraculous Medal , with the inscription: "O Mary, conceived without sin, pray for us who have recourse to you ".
Our Lady's instructions were clear and simple: "Make a medal, according to this model. Those who carry it with faith will receive great graces ".
Since then, the Miraculous Medal has been distributed all over the world, even in moments of great spiritual distress and many epidemics, never failing to lack innumerable miracles and true miracles.
The false Miraculous Medal
Unfortunately, for some time now, there have been some false Miraculous Medals in their circulation, which bear a Masonic symbolism, absolutely to be eliminated from our sacred objects.
In order not to risk bringing with you a cursed Miraculous Medal, it is good to observe carefully what is reported above and compare it with the image that the Madonna herself entrusted to Sister Caterina Labouré.
Some useful indications
The False Medal has the stars with 6 points (but also with 5) and arranged differently, with respect to the original.
Also the "M" has a different position and Masonic symbols appear on the Hearts: the team and the compass.
Furthermore, the sword, which should cross the Heart of Mary, is moved behind it. The cross and the "M" are stuck on the contrary, with respect to the original, and have strange sharp edges.
In the False Medal – attention, it is the most obvious datum – on the cross appears a 6 or 5-pointed star, a symbol of Lucifer that dominates the Christ.
The fake Medals are absolutely destroyed!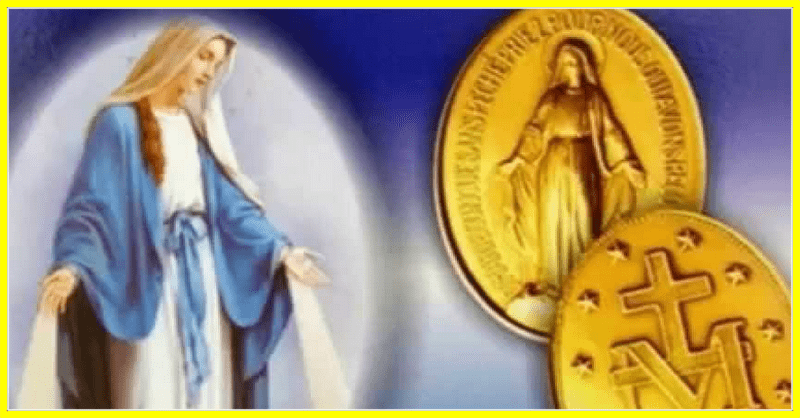 Prayer to the Miraculous Medal
The authentic Miraculous Medal is a very important symbol, for every Christian, who remembers our bond with the Virgin Mary.
To remember the moment when she herself gave us this symbol, it is good to do the following prayer every 27th of the month, and November 27th in particular , at 17: 30 (time of the apparition):
O Immaculate Virgin, we know that always and everywhere you are willing to grant the prayers of your children, exiles in this valley of tears. We also know that there are days and hours in which you take pleasure in spreading your graces more abundantly.
O Mary, here we are prostrate in front of you, just that day and now blessed, that you have selected for the event of your Medal.
We come to you, filled with immense gratitude and unlimited trust, so dear to you at this hour, to thank you for the great gift of your Medal, a sign of your love and your protection.
We promise you that the holy Medal will be our invisible companion, it will be the sign of your presence; it will be our book on which we will learn to know how much you have loved us and what we have to do, so that many of your sacrifices and those of your divine Son are not useless .
Yes, your pierced Heart represented on the Medal will always rest on ours and will make it beat in unison with yours, light it with love for Jesus and strengthen it by bringing its cross every day behind him.
This is your hour, oh Mary, the hour of your inexhaustible goodness, of your triumphant mercy, the hour in which you made flow through your Medal, that torrent of graces and wonders that flooded the earth.
Make, oh Mother, that this hour is also our time : the hour of our sincere conversion and the hour of the full exhaustion of our vows.
You who have promised precisely in this fortunate hour that the graces would have been great for those who had asked for them with confidence, please take your eyes to our pleas.
We confess that we do not deserve to receive graces, but to whom we will appeal, or Mary, if not to you who are our Mother, in whose hands God has placed all his gifts?
Have mercy on us therefore.
We ask you for your Immaculate Conception and for the love that prompted you to give us your precious Medal.
O Consoler of the afflicted, who already touched you on our miseries, look at the evils from which we are oppressed.
Let your Medal spread its beneficial rays on us and on all our loved ones.
Heal our sick, give peace to our families, save us from all danger.
Your Medal brings comfort to those who suffer, consolation to those who cry, light and strength to all.
But especially allow, O Mary, that in this solemn hour we ask your Immaculate Heart for the conversion of sinners , especially those who are dearest to us.
Remember that they too are your children, that you suffered, prayed and cried for them.
Save them, o Refuge of sinners!
And after having loved you, invoked and served on earth, we can come to thank you and praise you eternally in Heaven. Amen.
Hi, Regina.
O Mary conceived without sin, pray for us that we turn to you (3 times)
Read also: Saint Catherine Labouré: the Saint who gave us the Miraculous Medal
Antonella Sanicanti