Medjugorje: "I need your prayers. Never like now, I ask you to hold the Rosary in your hand. Hold it tight." Our Lady the Queen of Peace to Mirjana
In a small room in the parish of S. Lucia in Perugia, Mirjana appeared for 7 minutes on her birthday (March 18, 1993).

Questioned by Alberto Bonifacio, she said that in these apparitions the Madonna who for 1 or 2 hours and sometimes even 3 or 4 prays with her for the unbelievers;

 

indeed, Our Lady does not call them that, but "those who have not yet known the love of God".
When the Madonna came, for me there was nothing else around: I was immersed in a blue sky and I saw her in her usual gray dress, not sad but normal ".

 

Our Lady said: Dear children, never before have I needed your prayers.

 

Never like now, I ask you to hold the Rosary in your hand.

 

Hold it tight.

 

I pray the Father very much for you.

 

I thank you because you came so numerous and you answered my call.

Having heard this strong invitation, I said for everyone: we will do it, Mother!




Questioned because after the apparition had gone away crying.

 

Mirjana explained that, at the departure of the Madonna, she had felt like an abandoned daughter: because of this she had cried, not because she had heard bad things.
December 2, 2019
"Dear children. As I am looking at you who love my Son, my heart is being filled with tenderness. I am blessing you with a motherly blessing. With a motherly blessing, I am also blessing your shepherds – you who speak the words of my Son, who bless with His hands and who love Him so much that you are ready to make every sacrifice for Him with joy.
You are following Him, who was the first shepherd, the first missionary. My children, apostles of my love, to live and work for others, for all those whom you love through my Son, is the joy and comfort of earthly life. If through prayer, love and sacrifice the Kingdom of God is in your hearts, then your life is joyful and bright. Among those who love my Son and who love each other through Him, words are not necessary.
A gaze is sufficient for the unspoken words and unexpressed feelings to be heard. There where love reigns, time no longer counts. We are with you. My Son knows you and loves you. Love is that which brings you to me and through that love I will come to you and speak to you of the works of salvation.
I desire for all of my children to have faith and to feel my motherly love which leads them to Jesus. Therefore, you, my children, wherever you go, illuminate with love and faith as apostles of love. Thank you."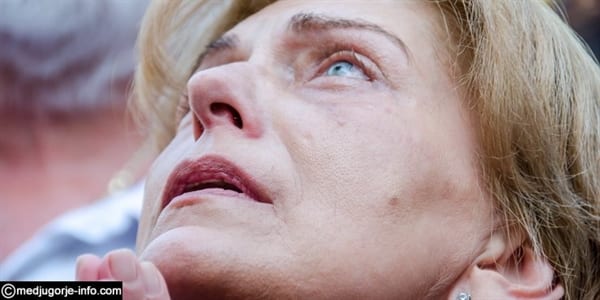 ---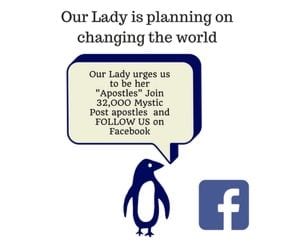 Become an Apostle of Our Lady and Join 80,000 others who bring the light of Medjugorje into the world each day. Join Us on Facebook at Mystic Post, Medjugorje Today or Children of Mary