Fire in Westphalia -Church of Visitation – See savage and disasterous photos
The Church of the Visitation in Westphalia, Texas caught fire

 

Monday morning, destroying the 125-year-old church.
The church currently has 500 registered parishioners and 185 families.
Neighbors managed to save most of the Eucharist and the tabernacle, but the remainder of the historic church completely burned within 30 minutes.
The Diocese of Austin was informed this morning of a fire at the Church of the Visitation in Westphalia. Full details of the fire are unknown at this time, but it appears the church will be a total loss.
"I am saddened for the people of Westphalia who have suffered this tremendous loss," said Bishop Joe S. Vásquez.
"I am grateful for all the firefighters and departments that responded to the fire. Please join me in keeping the people of this historic parish in your prayers today as they try to piece together this tragedy."
Bishop Vásquez will visit the parish this morning. The parish was founded in 1883 and currently serves 244 families. The church is led by Rev. Edwin Kagoo. www.austindiocese.org
Also read: Suffering ~ God is Close to the Broken Hearted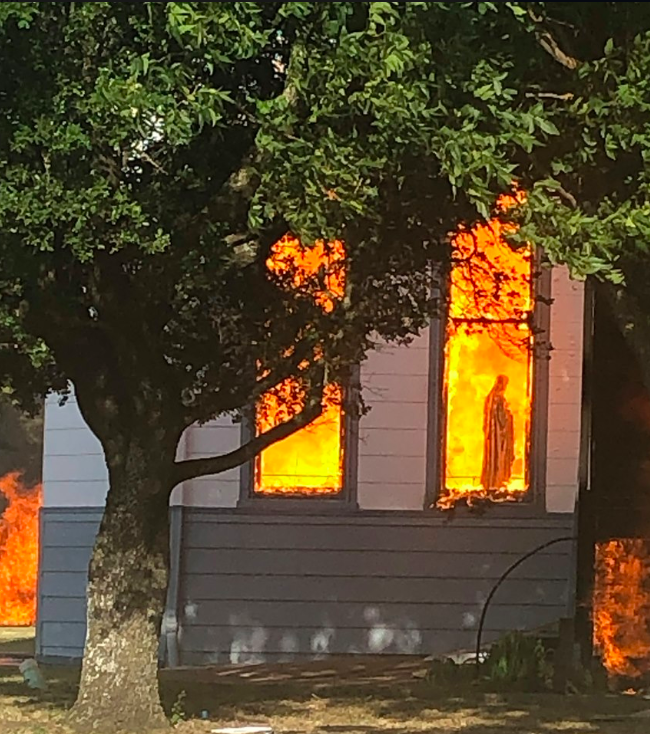 Please follow and like us:
---
The world is under attack and Mystic Post is facing real difficulties right now.

We need your help spreading the messages of the Queen of Peace.

We work very hard for Our lady every day.

Helping to Spread Our Lady's message of the coming of Her Triumph is our Mission
Satan is attacking her plans for peace and salvation for the world like never before.








God Bless you and thank you for your support and help...Stephen Ryan Founder of Mystic Post