The forgotten Apparition of Virgin Mary-Harissa- lebanon – One of the most vivid images of the Blessed Mother in Christian history – Pray for Our Lady's triumphant heart.
"The Virgin Mary appeared to me during the war years.  The year Syrian's regime assad the father decided the time had come to kill the Lebanese CHRISTIANS.  She was first spotted under the neighbors huge eucalyptus tree.  Some people did not see it but I did very clearly yet my cousin was not able to see it.  Her faith she was told by a priest was not strong enough.  I will remember that all my life and I know that when I die she will come to take me to her kingdom.  
Visionary Marija says: "Our Lady is preparing us for the Triumph of her Immaculate Heart. "…She says "PREPARE FOR NEW TIMES"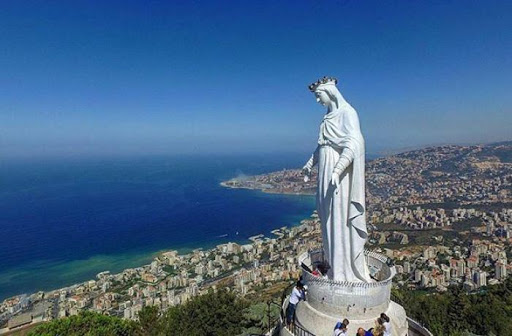 CNS/Dalia KhamissyPeople visit the Shrine of Our Lady of Lebanon in 2012 in the village of Harissa near Beirut. Muslims and Christians alike come to the shrine. (CNS photo/Dalia Khamissy) See HARISSA-SHRINE-MARY May 24, 2016
HARISSA, Lebanon (CNS) — High on a summit overlooking the Mediterranean, Our Lady of Lebanon stands majestically with her arms outstretched, welcoming her children.
Muslims and Christians alike come to the shrine, 16 miles north of Beirut.
To Muslims, Mary is known in Arabic as "Seidatna Maryam," Our Lady Mary. Even though Muslims do not believe that Jesus is the Son of God, in the Quran, a chapter is devoted to Maryam.
In Lebanon, the feast of the Annunciation, March 25, is celebrated by Christians and Muslims as a national holiday.
During the Marian month of May, the shrine receives about 1 million visitors, Father Obeid said. For Lebanese, particularly Maronite Catholics who have a deep devotion to Mary, this May pilgrimage is an annual tradition.