After praying for a sign from God, man finds Image of Our Lady of Guadalupe and baby Jesus found in tree…Believes image is divine. "I'm keeping this forever."
William Blackwell was chopping wood over the weekend when he came across something that shocked him.
It was Saturday morning and Blackwell said amid all the problems in the world right now, he was praying for a sign from God that everything was going to be okay.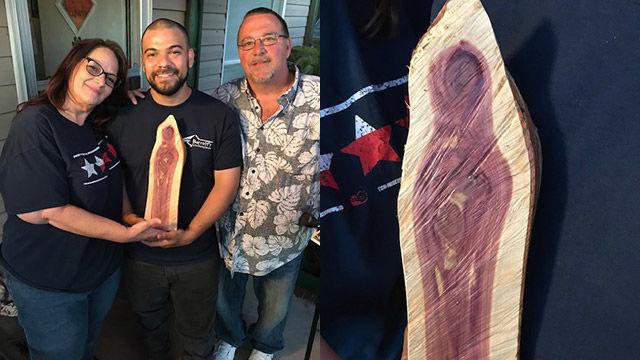 When he chopped into a log, he found a mark that he believes appears to be Mother Mary and baby Jesus.
 
"This is a sign," Blackwell said. "We're gonna be all right."
Later that night, Blackwell says his wife, Melinda, got a message that led to life-changing reunion.
 
Melinda Blackwell received a message on Facebook from a woman, asking if she gave birth to a son in 1993. Melinda said she gave up a son for adoption that year, who was named Samuel.
The woman who reached out to Melinda on Facebook was Samuel's girlfriend. He lives in Simpsonville now and was doing research to locate his biological mother. They met each other over the weekend and the pair says they had an instant bond.
All of them believe the image is of divine significance. 
"I'm keeping this forever," Blackwell said.
 
 
Copyright 2020 FOX Carolina (Meredith Corporation). All rights reserved.