The Seven-Headed Snake from the book of Revelations 12:3 – Snake found in Honduras – Internet legend lives on. Witnesses say "Proof we are in last days"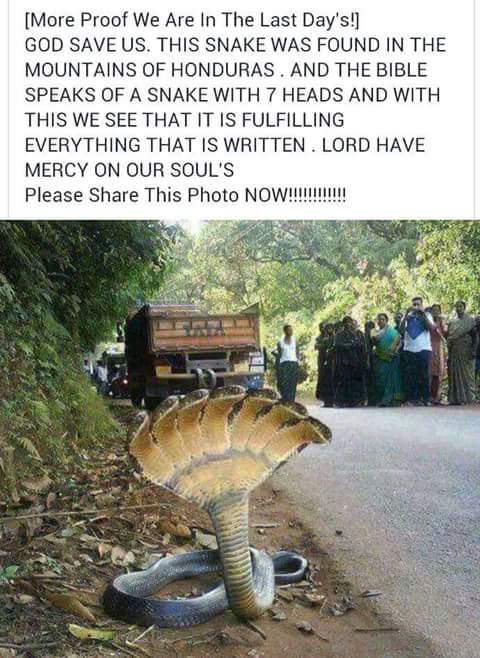 Since 2012, viral images of a multi-headed snake found by the side of the road in Honduras or India (and sometimes in other locations) have been circulating on the internet. Sometimes the snake sports three heads, sometimes it's five heads, while in other photos it is a seven-headed snake that's depicted in the very realistic-looking images.
Mentions of a 7-Headed Snake in the Bible
The excerpt that accompanies the viral image of the seven-headed snake refers to the bible speaking of a seven-headed​ snake — but what is it exactly that is being implied when it says:
"…FULFILLING EVERYTHING THAT IS WRITTEN. LORD HAVE MERCY ON OUR SOULS" 
In the Bible (New Testament) there is indeed a mention of a 7 headed serpent or dragon. In Revelations 12:3 there's the quote:
"And there appeared another wonder in heaven; and behold a great red serpent (dragon), having seven heads and ten horns, and seven crowns upon his heads."
This quote from the bible can be interpreted in a number of different ways — since a dragon has long been known as an emblem of Satan and those who govern for him on earth as having 10 horns (10 kingdoms), and having seven crowns (representing seven forms of government), this viral photo may have been alluding to the fact that Satan is really here on earth.
Many interpretations for Revelation 12:3 have been offered by different schools of thought. But since the image in question was just a digitally manipulated version of an original photo of a rather ordinary snake, it seems fair to say that the poorly written excerpt accompanying the photo of the seven-headed snake has no basis in any real truth.
The excerpt that accompanies the image includes:
GOD SAVE US. THIS SNAKE WAS FOUND IN THE MOUNTAINS OF HONDURAS. AND THE BIBLE SPEAKS OF A SNAKE WITH 7 HEADS AND WITH THIS WE SEE THAT IT IS FULFILLING EVERYTHING THAT IS WRITTEN. LORD HAVE MERCY ON OUR SOULS.
Polycephaly: What Is It Exactly?
The phenomenon of having more than one head is called polycephaly. The term is derived from Greek words poly- meaning "multiple" and kephalē- meaning "head." 
It is very unusual for polycephaly to happen, though the phenomenon does exist — commonly in snakes or turtles. Usually, it's two-headedness (bicephaly or dicephaly) that is reported, though two-headed animals don't survive well in the wild.
Since the occurrence and cases of two-headed animals are rare enough, examples of tricephaly (tree-headedness) are even more scarce. This leaves one pondering whether the circulated images of the seven-headed snake are real or fake.
In the case of science, no such cases of live animals born with tricephaly have been recorded. This would mean that a 7 headed snake is probably even less likely to have ever been observed. Closer examination of the circulated picture points to a likely digital manipulation of an image of a snake.