Is the upheaval on the streets of USA a sign? The 8th secret offers a clue…

USA has not seen upheaval and violence on its own streets in decades like we see today.
Antifa, BLM and other groups that are leading the violence have a clear anti-Christian agenda. They are tearning down Christian statues and symbols and desecrating churches like never before.
What is happening across America is precisely what happenned in Russia. Anti-Christian anarchist organized the charge. These perpetrators of violence have identical ideologies as today's Antifa.  The Russian revolution was a direct attack against Christiainity which led to the  rise of atheist communism that resulted in millions of innocent people dying.  American youth are not taught about the persecution of Christians that took place on an epic scale in the Soviet Union and other countries and tragically history is repeating itself.
THE EIGHT SECRET OF MEDJUGORJE WARNS ABOUT "STREET UPHEVAL":
Concerning the eighth secret, Mirjana is frightened and prays to Our Lady for mercy on mankind: "I have prayed; the punishment has been softened. Repeated prayers and fasting reduce punishments from God, but it is not possible to avoid entirely the chastisement. Go on the streets of the city, count those who glorify God and those who offend Him. God can no longer endure that."
June 25, 2020 Message from the Queen of Peace:
"Dear children! I am listening to your cries and prayers, and am interceding for you before my Son Jesus, who is the Way, the Truth and the Life. Return, little children, to prayer and open your hearts in this time of grace and set out on the way of conversion. Your life is passing and, without God, does not have meaning. This is why I am with you to lead you towards holiness of life, so that each of you may discover the joy of living. I love you all, little children, and am blessing you with my motherly blessing. Thank you for having responded to my call."
---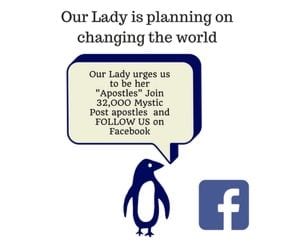 Become an Apostle of Our Lady and Join 80,000 others who bring the light of Medjugorje into the world each day. Join Us on Facebook at Mystic Post,Medjugorje Today or Children of Mary
---
November 6, 1982
---
---
Other early interesting messages
July 21, 1982
Concerning Fasting: "The best fast is on bread and water. Through fasting and prayer, one can stop wars, one can suspend the laws of nature. Charity cannot replace fasting. Those who are not able to fast can sometime replace it with prayer, charity, and a confession; but everyone, except the sick, must fast."
Our Lady the Queen of Peace July 21, 1982
Concerning Purgatory: "There are many souls in Purgatory. There are also persons who have been consecrated to God – some priests, some religious. Pray for their intentions, at least the Lord's Prayer, the Hail Mary, and the Glory Be seven times each, and the Creed. I recommend it to you. There is a large number of souls who have been in purgatory for a long time because no one prays for them.
July 24, 1982
"You go to Heaven in full conscience: that which you have now. At the moment of death, you are conscious of the separation of the body and soul. It is false to teach people that you are reborn many times and that you pass to different bodies. One is born only once. The body, drawn from the earth, decomposes after death. It never comes back to life again. Man receives a transfigured body."
Regarding a question asked about being bad all ones life and asking forgiveness: "Whoever has done very much evil during his life can go straight to Heaven if he confesses, is sorry for what he has done, and receives Communion at the end of his life."