Is it a Sin to Receive the Eucharist in the Hand? w/ Fr. Mark Goring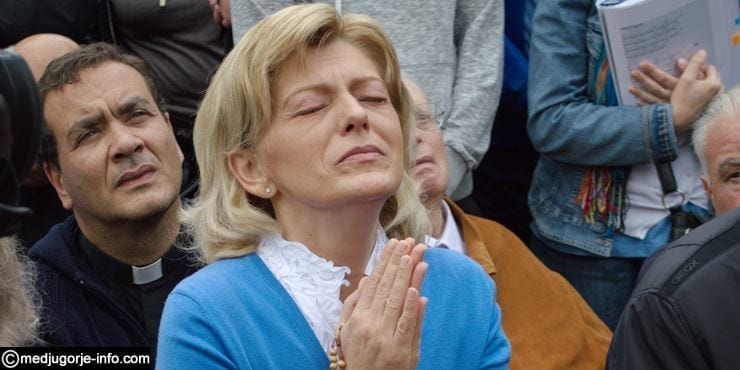 Medjugorje: Vatican Envoy Archbishop Hoser – Stop Communion on the hands… Fears that Consecrated Hosts are stolen, sold and used in Satanic Rituals
The Congregation for Divine Worship and the Discipline of the Sacraments states: "Although every believer always has the right to receive, at his choice, Holy Communion in the mouth , if one communicates, in the regions where the Conference of Bishops, with confirmation on the part of the Apostolic See he has allowed it, he wants to receive the sacrament on the hand, the sacred host is distributed to him.
It should be noted, however, with particular attention that the communicant immediately takes on the host in front of the minister, so that no one moves away carrying the Eucharistic species.
If there is a danger of profanation, Holy Communion should not be distributed to the faithful ".
Precisely for this reason, many still ask, today, what is the most correct way to treat the Bread of the Altar which, meanwhile, has become the true Body of Christ.
The priest does not always have the possibility of verifying that the faithful immediately consume the particle, much less can he verify if his hands are at least clean and ready to treat that food of life in the way it deserves.
Medjugorje: the trafficking of consecrated hosts
Unfortunately, in Medjugorje (and not only) the question has become unsustainable, since the moment of Communion, crowded as always, has become a congenial pretext for those who want to make an incorrect use of the host.
Among the faithful there are often creepers and bad people who steal the consecrated host, do not eat it, but keep it aside to sell it, even at the price of 500 euros, to those who then practice satanic rituals!
For this reason, in Bosnia and Herzegovina, the Apostolic Visitor Henryk Hoser gave precise instructions, in an attempt to avoid theft and smuggling of the hosts.
Thus, only a few hours ago, in the Church of St. James in Medjugorje, the new norm was spread: "By disposition of the pontifical delegate, from now on, it will be possible to receive Communion only in the mouth. And not on your hands anymore "!
The meaning of Communion
We hope that this reminds everyone of what the Catechism of the Catholic Church also cites : "The Lord, having loved his own, loved them to the end. Knowing that his time had come to pass from this world to the Father, while they ate dinner, he washed their feet and gave them the commandment of love. To leave them a pledge of this love, in order never to distance himself from his own and make them participants in his Passover, he instituted the Eucharist, as a memorial of his death and resurrection, and commanded his Apostles to celebrate it until his return, constituting them at that time priests of the New Covenant".
This is what that food of eternal life must mean for us. This is why the Satanists would like to seize it