Commentator Candace Owens Accuses Alexandria Ocasio-Cortez of 'Faking Her Own Attempted Murder'
Source: Newsweek
Conservative commentator Candace Owens has attacked Rep. Alexandria Ocasio-Cortez in a string of tweets, accusing the Democratic lawmaker of faking her own attempted murder and branding her "disturbed."
"On a day in which #AlexandriaOcasioSmollett is trending, please never forget the time that @AOC staged a photo shoot dressed in all white at a parking lot to spread lies about immigrant children in cages," Owens wrote.
"Faking her own attempted murder was the next logical step."
Owens was referring to claims by critics of the New York congresswoman that she had lied about her experiences during the Capitol riots.
Ocasio-Cortez described the day on an Instagram Live video on Monday, revealing how she hid in her office bathroom and thought she was going to die when she heard a man in her office yelling: "Where is she?"
Responding to the suggestion that she had exaggerated the ordeal, Ocasio-Cortez said commentators on the right were "manipulating the fact that most people don't know the layout [of] the Capitol complex" to claim her life had not been in danger when hundreds of Donald Trump supporters—some heavily armed—stormed the building.
After her Instagram Live video, Ocasio-Cortez wrote on Twitter: "My story isn't the only story, nor is it the central story of what happened on Jan 6th.
"It is just one story of many of those whose lives were endangered at the Capitol by the lies, threats and violence fanned by the cowardice of people who chose personal gain above democracy."
Owens' other claim—that a photo of Ocasio-Cortez raising awareness of the treatment of migrant children in a "tent city" in Tornillo, Texas, was "staged"—was quickly rebuffed by Walter Shaub, former director of the United States Office of Government Ethics.
He tweeted: "Here's photo of @AOC and @MariaTeresa1 that I took with my own camera in Tornillo," adding: "This wasn't some random parking lot. This was the entrance to the Tornillo detention facility."
He also told Owens: "You should retract the lie you're telling about AOC—and, if you're capable of shame, you should be ashamed for mocking the outrage over family separations and child torture."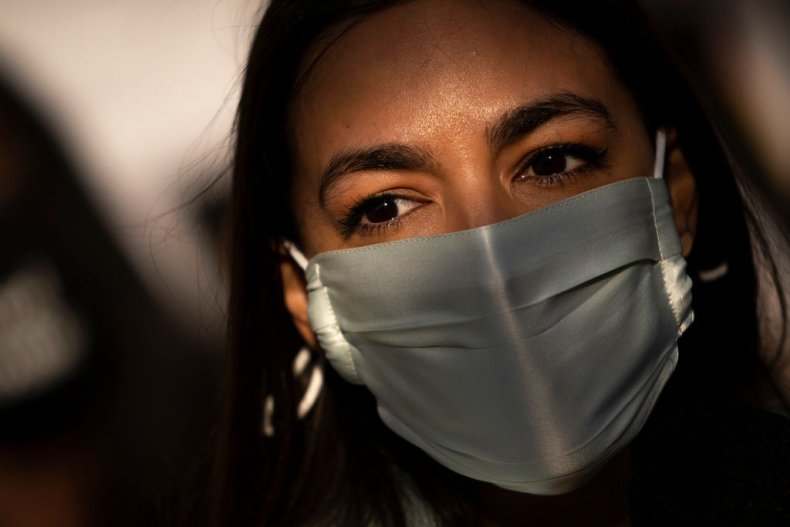 Rep. Alexandria Ocasio-Cortez speaks outside the Democratic National Committee headquarters in Washington, D.C. on November 19, 2020. Conservative commentator Candace Owens has attacked her in a series of tweets.DREW ANGERER/GETTY IMAGES
In a follow-up tweet, Owens wrote: "Since #AlexandriaOcasioSmollett is trending, let us all be reminded of the time Ben Shapiro challenged her to a debate, and she falsely accused him [of] 'cat-calling' her with 'bad intentions'.
"How many men has @AOC falsely accused of heinous acts against her? She seems disturbed."
That tweet apparently referred to Ocasio-Cortez revealing during the Instagram video that she is a sexual assault survivor.
Ocasio-Cortez has become a lightning rod for conservatives and regularly faces threats of violence.
Last month a man from Texas was charged with participating in the Capitol riot and sending a death threat to her.
In a separate case in January, a New York man was charged after allegedly calling for the "public execution" of lawmakers including Ocasio-Cortez.