Medjugorje February 28, 2021 – The Mysterious Prophet who Saw Everything: "Medjugorje will be very important, people will come here from all corners of the world"…"I REPEAT TO YOU, LITTLE CHILDREN, THAT WARS CAN BE SUPPRESSED WITH PRAYER AND FASTING"
---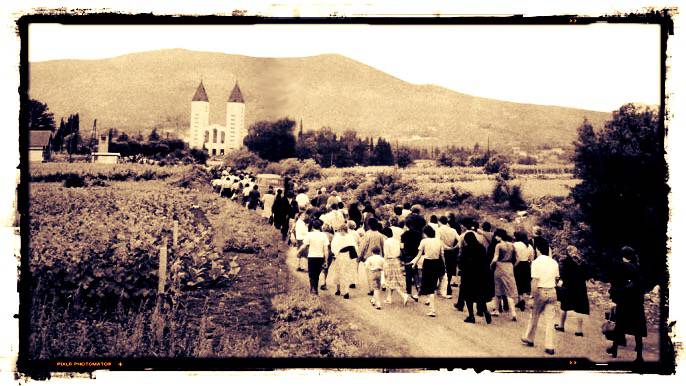 Medjugorje
Do you know Matè Sego and his link with Medjugorje?
He was a farmer, born in 1901, in the village of Bijakovici, in Bosnia-Herzegovina, near Medjugorje.
Maté Sego had never had the opportunity to go to school and lived very humbly: he cultivated his land; he did not own a house with water and electricity; he slept on the ground near his field.
The life of this gentle and respected man, known to everyone in the village, is, today, forever linked to the apparitions of Our Lady, in that place.
Long before the seers began to talk to the Queen of Peace, Matè Sego had begun to describe unexpected events unthinkable for the inhabitants of those hamlets.
He, who lived right where, now, the Marian apparitions take place, said, in fact: "One day, there will be a large staircase behind my house, with as many steps as there are days of the year. Medjugorje will be very important, people will come here from all corners of the world ".
He also said that in that place a much larger church would have arisen and so would other buildings; so many people would have come to their village.
It was well understood that Matè Sego announced that something very special would have marked the life of his people.
But Matè Sego was not understood by those who listened to him, even though he spoke of his death, which would have happened just when these events would have begun; although he spoke of the need to pray a lot; although he described the source and a port that would attract so many devoted people.
In 1978, the church that stood in that place was demolished. Matè Sego died that very day.
When the apparitions of the Virgin Mary began, in the presence of the six children / seers, the words of Maté Sego began to make sense and everything was understood.
Matè Sego, therefore, can be considered the first to have announced that Medjugorje would become a holy place.
Antonella Sanicanti
Medjugorje message of February 25, 2021
"DEAR CHILDREN! GOD HAS ALLOWED ME TO BE WITH YOU TODAY, TO CALL YOU TO PRAYER AND FASTING. LIVE THIS TIME OF GRACE AND BE WITNESSES OF HOPE, BECAUSE I REPEAT TO YOU, LITTLE CHILDREN, THAT WARS CAN BE SUPPRESSED WITH PRAYER AND FASTING.CHILDREN, BELIEVE AND LIVE IN FAITH AND WITH FAITH IN THIS TIME OF GRACE, AND MY IMMACULATE HEART DOES NOT LEAVE ANY OF YOU IN TROUBLE IF YOU ENTRUST YOURSELVES TO ME. I INTERCEDE FOR YOU BEFORE THE MOST HIGH AND PRAY FOR PEACE IN YOUR HEARTS AND HOPE FOR THE FUTURE. THANK YOU FOR HAVING RESPONDED TO MY CALL. "