Virtual Conference with Fr. Calloway Honoring St. Joseph Planned for March 19th
Virtual Conference Honoring St. Joseph Planned for March 19th
In conjunction with Pope Francis's call for a Year of St Joseph, John Leaps Evangelization is hosting an online conference with a series of inspiring speakers to honor Jesus' earthly father. The conference will take place on March 19th, the solemnity of St Joseph, and will include inspirational talks, prayers, a consecration to St Joseph and Mass.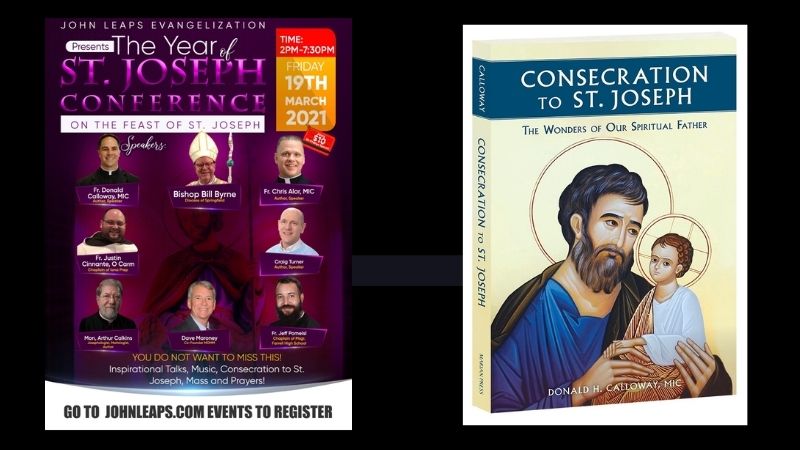 One of the main speakers is Father Donald Calloway (MIC), author of the book Consecration to St Joseph, a 33-day manual for those wishing to consecrate themselves to the foster-father of Jesus. Interest in St Joseph has skyrocketed in the past year as Catholic bishops and a variety of speakers have begun recognizing the need for his intercession. As the "most chased spouse" of the Blessed Virgin Mary, St Joseph, along with Mary, is the perfect intercessor for a culture that struggles with chastity.
Viewers may also sign a petition to the bishops of the United States requesting that they process the statue of Our Lady of America into the Basilica of the National Shrine of the Immaculate Conception. It was at this series of apparitions that Mary requested her likeness be processed into the National Shrine. She promised that if this were done, the United States would receive graces of spiritual healing even greater than those experienced at Fatima and Lourdes.
The conference begins with a fascinating story about how both Jesus and Mary appeared to various saints in the 1800s warning about the coming of an unknown group called "communists." Sister Mary of St Peter, a Carmelite from Tours, France, was visited either by locution or apparition at least 50 times by Jesus, in which he stated that communism was the great foe of humanity, and giving special devotions to be used to battle the evil. The devotions were not spread in time and communism became the 20th century's greatest evil.
In addition to Fr. Calloway, other speakers include Bishop Bill Byrne of the diocese of Springfield (who will be celebrating the Mass); Fr. Chris Alar (MIC), author and speaker; Fr. Justin Cinnante, chaplain of Iona Prep in New Rochelle, New York; Monsignor Arthur Calkins, author and theologian on Joseph and Mary; Fr Jeff Pomeisl, chaplain of Msr Farrell High School (New York); Dave Maroney, speaker with Mother of Mercy Messengers; as well as conference host Craig Turner (author and speaker).
"This is a conference people do not want to miss, as the Church brings St Joseph forward alongside Mary in the battle against the great evils that we as a country face today," said Karen Japzon, the conference organizer and head of John Leaps Evangelization. "The talks and the lineup of speakers are exceptional."
The conference begins at 2:00 pm and is free to all who register.