Medjugorje Today April 21, 2021 From Interview with Mirjana: How to Prepare for Medjugorje's Ten Secrets …"Eternal words that are victorious over time and death"
Mirjana told me in my interview with her, "I don't want to talk very much about the secrets, because secrets are secrets. I want to say one thing that is very important. Blessed Mary said, 'What I started at Fatima, I will finish in Medjugorje. My heart will triumph.' If the heart of our Mother will triumph, we don't need to be scared of anything. It's only important to put our life in her hands and not to think about secrets. We should think about the messages and what she asked for us, so that we can help her Immaculate Heart to triumph."
"Dear children! I thank God for each of you. In a special way, children, thank you for having responded to my call. I prepare you for new times so that you may be steadfast in faith and persevering in prayer, so that the Holy Spirit may work through you and renew the face of the earth. I pray with you for peace, the most precious gift, even if Satan wants war and hatred. You children, hold my hands out and walk proudly with God. Thank you for having responded to my call. " Queen of Peace 2019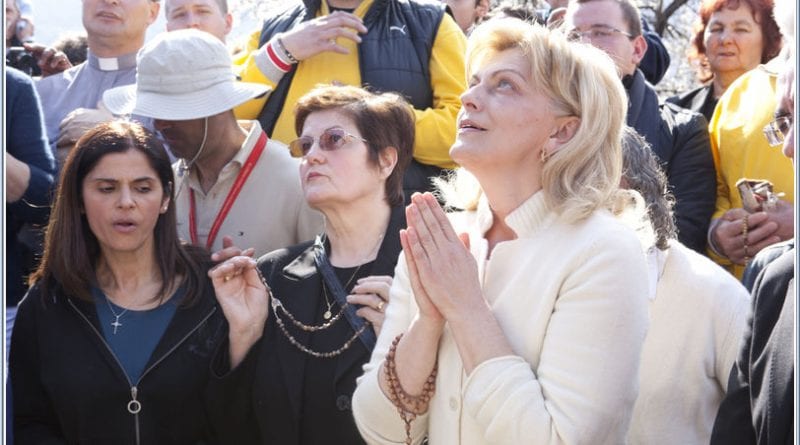 "Only when the things contained in the secrets start to happen will the world understand why Our Lady chose March 18. The significance of the date will be clear." Mirjana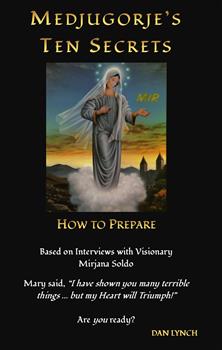 My new book, "Medjugorje's Ten Secrets – How to Prepare", contains information from a personal interview that I had with visionary Mirjana on how to respond to Our Lady's requests. Click here to order book 

"There has never been an era like this, never before has God been respected less and dishonoured than now, never before have so few prayed. Everything seems to be more important than God. That's why I cry so much" Mirjana said in an October 1985 interview. "The number of unbelievers is getting bigger and bigger. In their commitment to a better life for these people, God himself is superfluous and unnecessary. This is why I feel deeply sorry for them and for the world. They have no idea what awaits them.
"Medjugorje is the continuation and fulfillment of Fatima.
August 25, 1991 – "Dear Children! Today also I invite you to prayer, now as never before when my plan has begun to be realized. Satan is strong and wants to sweep away plans of peace and joy and make you think that my Son is not strong in his decisions. Therefore, I call all of you, dear children to pray and fast still more firmly. I invite you to realize through the secrets I began in Fatima may be fulfilled. I call you, dear children, to grasp the importance of my coming and the seriousness of the situation. I want to save all souls and present them to God. Therefore, let us pray that everything I have begun be fully realized. Thank you for having responded to my call. "
In 1917, during World War I, Mary appeared at Fatima to three shepherd children. Pope Benedict XVI later said, "At a time when the human family was ready to sacrifice all that was most sacred on the altar of the petty and selfish interests of nations, races, ideologies, groups and individuals, our Blessed Mother came from heaven, offering to implant in the hearts of all those who trust in her the love of God burning in her own heart.…" (Homily at Fatima, May 13, 2010).

Mary said at Fatima, "In the end, my Immaculate Heart will triumph. The Holy Father will consecrate Russia to me, and she will be converted, and a period of peace will be granted to the world." St. Pope John Paul II apparently believed that the apparitions at Medjugorje, Bosnia-Herzegovina, were a continuation and fulfillment of the apparitions at Fatima.

Mirjana, one of the visionaries at Medjugorje, said that Pope John Paul II told her, "Medjugorje is hope for the entire world. And if I were not Pope, I would have been in Medjugorje a long time ago."
"Dear children, all that my Son, who is the light of love, has done and does, He has done out of love. Also you, my children, when you live in love and love your neighbors, you are doing the will of my Son. Apostles of my love, make yourselves little; open your pure hearts to my Son so that He can work through you. With the help of faith, be filled with love. But, my children, do not forget that the Eucharist is the heart of faith.
This is my Son who feeds you with His Body and strengthens you with His Blood. This is a miracle of love: my Son who always comes anew, alive, to bring life back to souls. My children, by living in love you are doing the will of my Son and He lives in you. My children, my motherly desire is for you to always love Him more, because He is calling you with His love. He is giving you love so that you may spread it to all those around you. As a mother, through His love, I am with you to speak the words of love and hope to you-to speak to you the eternal words that are victorious over time and death-so as to call you to be my apostles of love. Thank you."
Without your charitable GIFTS it would be hard to continue spreading Heaven's messages. Please consider helping us keep the site going strong. Thank you and may God Bless you all.