The True Apostles of the Latter Times
The True Apostles of the Latter Times
Dan Lynch
April 28, 2021
Today is the feast day of St. Louis Marie Grignion de Montfort, a missionary priest in 18th century France who requested Catholics to make their Total Consecration to the Immaculate Heart of Mary.
 
At Medjugorje, on August 2, 1983, Our Lady echoed the request of St. Louis and requested the visionary Jelena and the prayer group to, "Consecrate yourselves to the Immaculate Heart. Abandon yourself totally…." If we follow her request, we will be transformed by Our Lady into other Christs and the True Apostles of the Latter Times in order to protect us from chastisements and to prepare the world for its purification, the defeat of the pride of Satan, the Triumph of the Immaculate Heart of Mary and the Era of Peace that she promised in her apparitions at Fatima, Portugal, in 1917.
 
Medjugorje visionary Mirjana Soldo told me when I personally interviewed her, "I want to say one thing that is very important. Blessed Mary said, "What I started at Fatima, I will finish in Medjugorje. My heart will triumph."
 
St. Louis was a priest born in Montfort, France on January 31, 1673. He dropped his full name and became known simply as St. Louis de Montfort, after his hometown.
 
He was a simple but wise priest who was much opposed, misunderstood and maligned as he preached missions from diocese to diocese. He once walked 1000 miles all the way to Rome and back to receive confirmation from Pope Clement XI that he was following God's will. The Pope appointed him as a Missionary Apostolic for all of France, yet he was still banned from 6 dioceses!
 
Father Faber said that St. Louis "comes forward like another St. Vincent Ferrer, as if on the days bordering on the Last Judgment, and proclaimed that he brings an authentic message from God about the greater honor and wider knowledge and more prominent love of his Blessed Mother, and her connection with the second advent of her Son." (True Devotion to Mary page xx).
 
St. Louis died, exhausted from his many labors, at the age of 43 on April 28, 1716. He was canonized as a saint in 1947. He is truly a saint for our latter times.
 
St. Louis prophesied that God with his holy Mother would form great souls as Apostles of the Latter Times. He wrote,
These great souls, full of grace and zeal, shall be chosen to match themselves against the enemies of God, who shall rage on all sides; and they shall be singularly devout to our Blessed Lady, illuminated by her light, strengthened with her nourishment, led by her spirit, supported by her arm and sheltered under her protection, so that they shall fight with one hand and build with the other….
 
They will know the grandeurs of that Queen, and will consecrate themselves entirely to her service as subjects and slaves of love….
 
They shall be the True Apostles of the Latter Times…. (True Devotion to Mary pp.48, 55, 56, 58, 59).
Likewise, Our Lady told Father Gobbi of the Marian Movement of Priests, "All my beloved ones and children consecrated to my Immaculate heart, called to be today The Apostles of the Last Times, are the most aluminum luminous stars of my royal crown." (To the Priests No.414).
 
St. Louis' prophecy that those consecrated entirely to Mary's service will be the True Apostles of the Latter times is fulfilled in those who respond to Our Lady's requests made at Fatima and Medjugorje to consecrate themselves to her Immaculate Heart. All those who do so are the prophesied True Apostles of the Latter Times and with her will bring about the final victory over Satan.
 
St. John Paul II singled out only St. Louis and his treatise on True Devotion to Mary among all of the other teachers and works of Marian spirituality. He said, "The Marian dimension of the life of a disciple of Christ is expressed in a special way precisely through the filial entrusting to the Mother of Christ, which began with the testament of the Redeemer on Golgotha. Entrusting himself to Mary in a filial manner, the Christian, like the Apostle John, welcomes the Mother of Christ into his own home and brings her into everything that makes up his inner life…." (Mother of the Redeemer No.45).
St. John Paul II said,
"Perfect devotion to Mary"- that is how [St. Louis] puts it – that is, the true knowledge of her, and confident surrender of her, grows with our knowledge of Christ and our confident surrender to his person. What is more, this "perfect devotion" is indispensable to anyone who means to give himself without reserve to Christ and to the work of redemption. Grignion de Montfort even shows us the working of the mysteries which quicken our faith and make it grow and render it fruitful. The more my inner life has been centered on the mystery of the redemption, the more surrender to Mary, in the spirit of St. Louis Grignion de Montfort, has seemed to me the best means of participating fruitfully and effectively in this reality, in order to draw from it and share with others its inexpressible riches. (Be Not Afraid, Andre Frossard, pp. 125-126).
St. Louis teaches Total Consecration to Jesus through Mary as a means of renewing our baptismal promises. By this total consecration we renounce Satan, his pomps and works and permanently dedicate ourselves to Jesus through Mary giving her our bodies and souls, our goods and even the merits of our good works for her disposition according to her will.
 
This is the most complete and perfect consecration formula to Our Lady and best fulfills her request at Fatima and Medjugorje to consecrate ourselves to her Immaculate Heart. This is the consecration personally made and lived by St. John Paul II and recommended by him to us. His papal motto was "Totus Tuus", meaning Totally Yours. He endorsed St. Louis' Total Consecration as the best means of participating fruitfully and effectively in the mystery of the redemption. (Be Not Afraid, Andre Frossard, pp. 125-126). We should imitate him, follow his recommendation and example and make and live St. Louis' Total Consecration.
 
Learn More and read my book
The Call to Total Consecration to the Immaculate Heart of Mary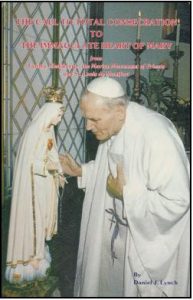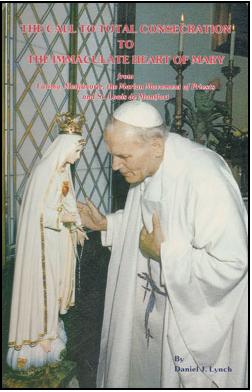 And the book Preparation for Total Consecration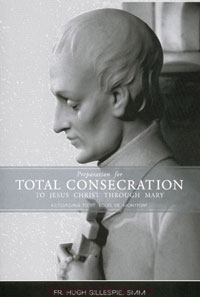 And the book Medjugorje's Ten Secrets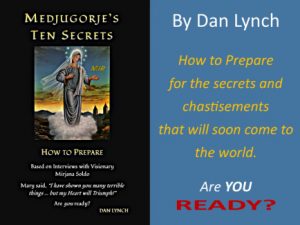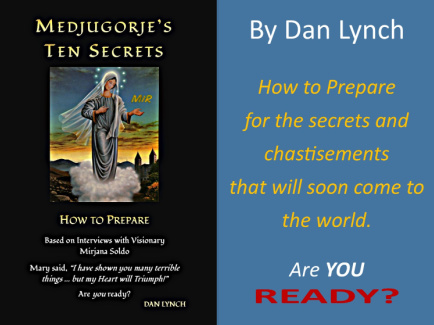 "I believe that the time of secrets coincides with [2021] the 40th year of appearances." (Father Livio Fanzaga, Director of  Radio Maria in Medjugorje.)
Watch and Listen to This Short Video by Dan on Why You Need to Read His New Book here.