70th Anniversary of the National Day of Prayer for America
70th Anniversary of the National Day of Prayer for America
May we turn away from anything that divides us, and unite in prayer for Love, Life and Liberty
Dan Lynch
May 5, 2021
On May 6, please join me and thousands of others as we pray during the National Day of Prayer for America. Let us join with government leaders and people in communities all around the country in prayer for Love, Life and Liberty. This year we are celebrating the 70th anniversary of the National Day of Prayer observance.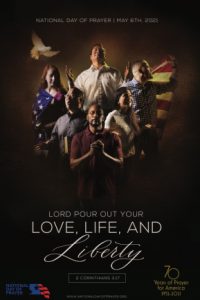 Now more than ever before, it is imperative that we, as God's people, pray for our Nation and fellow citizens. The critical challenges facing the United States and the culture at large call for faithful, persevering intercession on May 6 and throughout the year. We implore God to preserve the United States of America from the forces of evil that are threatening our lives and our future.

As we Pray for America whose Pledge of Allegiance recounts that we are "one nation under God," and whose currency states that it is "in God we trust," we want Americans to encounter the God who rules over our country.

He is the One who gave us this promise in 2 Chronicles 7:14: "If my people, who are called by My name, will humble themselves and pray and seek my face and turn from their wicked ways, then I will hear from heaven and will forgive their sin and will heal their land." As we humbly and diligently pray for true change and hope for America, we will be changed, and we hope that we will see transformation in America through prayer!
Click here to pray the Novena to Our Lady of America for True Change and Hope for America.
To learn more about Our Lady of America, you can read my book, Our Lady of America, Our Hope for the States.

Please click here to order your copy.