A statue of Pope John Paul II outside the Holy Rosary Catholic Church was vandalized with bloody red paint overnight.
A statue of Pope John Paul II outside the Holy Rosary Catholic Church in north-central Edmonton was vandalized with red paint overnight.
Edmonton police could be seen investigating Sunday outside the Polish church at 11485 106 St., where the statue was covered in red handprints.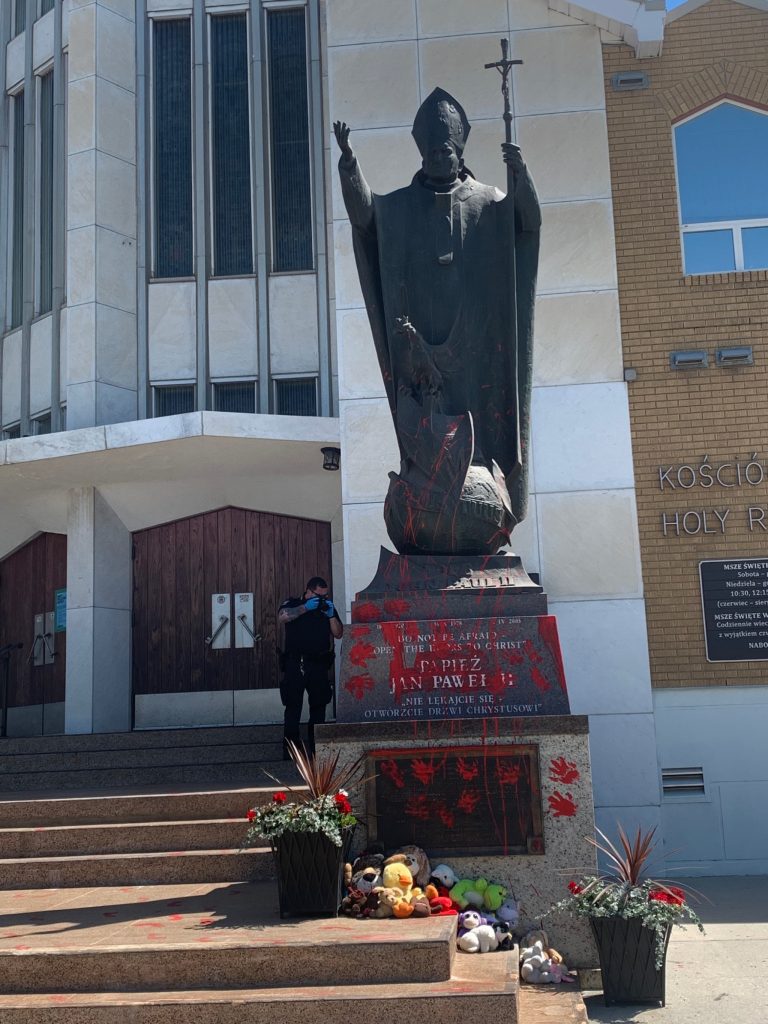 Teddy bears and other stuffed animals sat at the statue's base, and red footprints were also seen leading to and from the front doors of the church.
Edmonton police said the act happened around 11:10 p.m. Saturday, when a woman was seen vandalizing the statue of the late pope.
The Edmonton Police Service Hate Crimes and Violent Extremism Unit has been notified of the incident, though a spokesperson said the file will remain with the northwest division investigators until the hate crimes unit has had an opportunity to properly assess the situation.
No further details were available from police.
Born Karol Wojtyła in Wadowice, Poland, John Paul II was the first non-Italian pope since the 1500s and was head of the Catholic church from 1978 until his death in 2005.
"At a time when our country is acutely aware of the need for reconciliation with the Indigenous Peoples of this land, it is helpful to recall the words with which Pope John Paul II, during his 1987 visit to Fort Simpson, strongly affirmed the inherent goodness of Indigenous culture and traditions, and expressed solidarity with the First Nations, Metis and Innu Peoples in defense of their rights: 'My coming among you looks back to your past in order to proclaim your dignity and support your destiny.'"
Smith went on to say he echoed those words.
"The Church extols the equal human dignity of all peoples and defends their right to uphold their own cultural character with its distinct traditions and customs," the statement on Sunday read.
"The parishioners of Holy Rosary parish, and the people of the Archdiocese of Edmonton, stand with the Indigenous Peoples in this moment of profound sorrow.
"With them, we lament the sad legacy of residential schools and look forward to the healing of our relationships. May the Creator help all of us to give expression to our grief in a way that builds up and heals, and place us all on the right path of truth and reconciliation."