Miracle of Our Lady of Guadalupe – Why is nobody TALKING about this? | Image CHANGES COLOR
Sister Emmanuel Maillard in her latest bulletin, tells us about a very significant fact.
She says: "The Virgin of Guadalupe challenges us! On December 12, 2019, we celebrated it with joy! She helps us prepare for these times, as it is a pregnant Virgin, ready to give birth to her Child.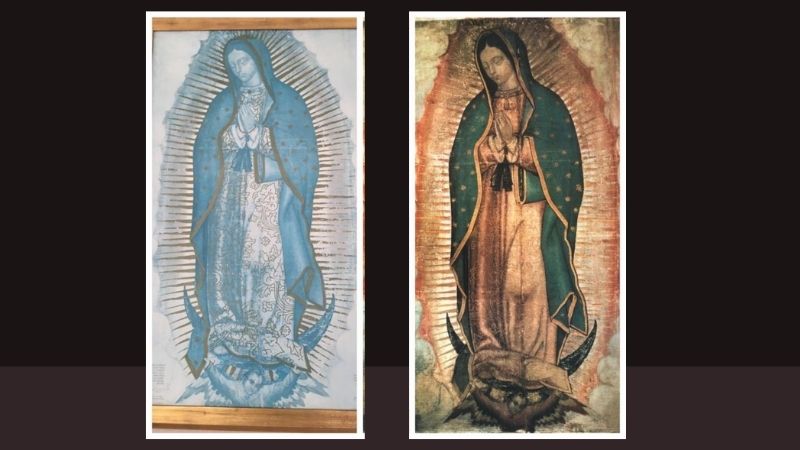 In the Marian Shrine of San Nicola, a replica of Juan Diego's Tilma was installed, the cloak he wore when he saw the Madonna and which is still miraculously preserved uncorrupted in Mexico City.
This very high quality, life-size reproduction, blessed by the Archbishop of Mexico City, then signed and certified by the Basilica of Mexico City where it comes from, and offered to Monsignor Domingo Castagna (then Bishop of San Nicola) has changed color.
The green color of the Tilma has turned sky blue.
This color change is of particular significance, having taken place shortly before the referendum in favor of life and against abortion, held on 8 August 2018.
For the Argentines, in fact, green is the color of those who militate in favor of abortion, while the blue sky is the color of those who defend life from conception and who won in the referendum.
And here the green that covers the Virgin of Guadalupe has turned sky blue!
But there is more: this reproduction in the church of San Nicola is not the only one to have changed color. On another reproduction, the one placed in the "House of Mary" in Lujan, where retreats are preached, the same phenomenon occurred.
This sign is very significant! It is no coincidence that the Virgin of Guadalupe, patroness of the Americas and symbol of motherhood, clearly shows her love and respect for human life from conception!
While the world promotes abortion with increasing violence, while many and many women are verbally raped by political speeches that oppose God's plan for humanity, our Heavenly Mother intervenes again, in the humble silence of a an image that will speak to the hearts of those who will be able to read the signs of the times, believers or non-believers.