THE MADONNA FILES, BEST-SELLING THRILLER, SAID THIS DAY WOULD COME – THE WORLD HAS BEEN WARNED: WAR BETWEEN USA and RUSSIA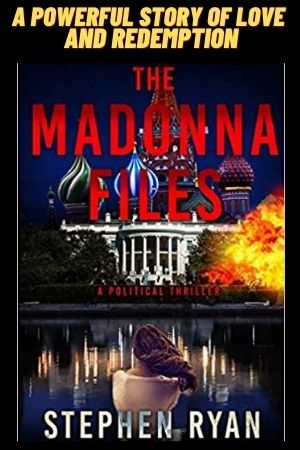 The Madonna Files reveals why
Russia and The
United
States are on a dangerous c
ollision
course that will impact the whole world.
As readers around the globe have already discovered, The Madonna Files is a reading experience unlike any other.  The Madonna Files is an intelligent, fast-paced, intricately layered novel with startling research and detail.  Stephen Ryan's novel is a thrilling adventure –from its opening pages to its dramatic conclusion.

"Well written, fast paced and as good as it gets in suspense."
Is it possible…
Could a modern prophecy and a mysterious message that was given to six children on a rocky hill in a remote village determine the events of our day? 
Could some of the most famous people of modern history and current events be secretly linked to this mystery including the President of the United States and the leader of Russia?
Could a series of mysterious phenomenon be manifesting itself on the world stage on an exact timetable that is secretly known by the six children?
Could these manifestations be altering the course of world events?
Is the world being warned of an apocalypse and of what is yet to come?
The Madonna Files by Stephen Ryan will open your eyes to groundbreaking mysteries that will impact not only how you understand the past, but also how you can be ready for the future.
To know what America's future holds, know what the past has already revealed.
On the quiet campus of M.I.T., a math professor is asked by the Vatican to determine the probability that six children are telling the truth.
The children, from Medjugorje, a town in Bosnia filled with sacred drama, say they see the Virgin Mary.
The children claim the Virgin Mary has given them ten secrets that include apocalyptic warnings for the entire world.
On the other side of the world, as a Russian Freighter with a mysterious cargo vanishes off the coast of Iran, a letter goes missing from the Pope's apartment.
The letter, known as the "Third Secret of Fatima", is the mostly closely guarded secret in Church history and contains a message so shocking that its revelation could change Christianity forever.
A priest – the Vatican's  "Miracle Detective" – is asked to find the missing letter, and as the miracle detective closes in on the secret letter, world events begin to hurdle out of control.
A dying Pope – A divided Church, a diabolical plot.

Has the world been warned?
Stephen Ryan's explosive debut novel challenges the prevailing orthodoxies of American history and Christianity, and reveals the dynamic presence of the Virgin Mary throughout the ages. With unexpected turns and a full dose of scholarly intrigue along the way, The Madonna Files is a contemporary religious thriller that explores the hidden secrets of the Virgin Mary