How To Prepare For The Coming "Great Chastisement" Jesus King of All Nations

Chastisement Protection Prayers, Promises, Medal and Image
On March 8, Jesus King of All Nations revealed this message, 
Once more I say that this image and devotion of mine were revealed for these times. Times that will witness the greatest punishments seen thus far upon the earth because of the tremendous sin that covers it. …
Do not fear my children for I AM with you to save you. Come before my image and pray my prayers. Wear my medal. Acknowledge to all that I AM the True King of all peoples; of all nations!
Jesus revealed His devotion, precisely for these times of secular "wokeness" that have brought these chastisements upon us. He revealed His protection prayers and promises and his medal and image in order to avert or mitigate these chastisements that He has prophesied to correct the conscience of mankind as an act of his justice and mercy and to bring humanity back to a relationship of love with Him. He has also prophesied a Great Renewal of the Holy Church, of Mankind, and of All Creation. This should give us hope.
The original messages and revelations were granted the Nihil Obstat that is a declaration that they are free from doctrinal and moral error, that they contain nothing that is contrary to faith or morals. Bishop Enrique Hernandez Rivera D.D., Bishop of Caguas, Puerto Rico, granted the Nihil Obstat on August 15, 1993. The bishop said that he recognized "the need to foster more devotion to Our Lord and Savior Jesus the Christ, True King of All Nations." No bishop or other Church authority has condemned the revelations or issued a negative judgment on them.
Jesus King of All Nations said, "In these times, only one thing will be given as a remedy. I myself AM that remedy!" (Journal 159). "I have told you of the remedy, that of the public practice of my Devotion and veneration of my Image." (Journal 671). 
Bishop Robert Barron wrote, "A king is one to whom total allegiance is due, one who is not subject to the people but who rather commands and orders them. If the way of Jesus is to prevail over and against the enormous power of the way of the world, He must be acknowledged as King and Commander – and we must be willing to march in His army."
So, let us learn:
How to be protected from chastisements HERE; 
How to practice His Devotion HERE; 
How to enthrone His Image HERE; and
Here is Link to the Medal 
https://www.jkmi.com/the-medal/
Here is Link to Chastisement Protection Prayers
https://www.jkmi.com/how-to-practice-the-jesus-king-of-all-nations-devotion/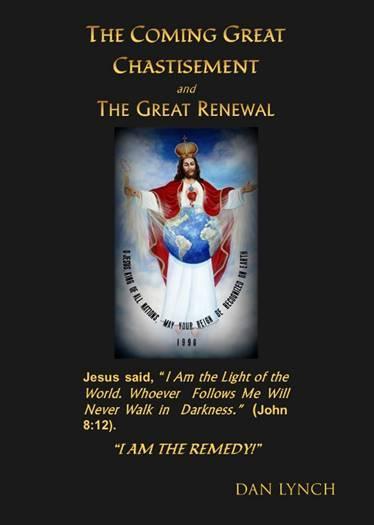 How to prepare for The Coming Great Chastisement and the Great Renewal in my book below.
Buy your copy TODAY! and buy the Journal HERE.
Jesus King of All Nations has now prophesied a GREAT CHASTISEMENT because of unrepentant sinful humanity. He said, "Let it be known and made clear, that soon, very soon, there shall come upon mankind the Great Chastisement which has been prophesied for many years yet held back by the most powerful intercession of my immaculate mother and the prayers and sacrifices of my faithful ones." (Journal 420).
He said, "Awake! Lift up your heads my people! Do you not see the signs all around you?! A great catastrophe is about to befall you!" (Journal 664).
He said, "It is for your good, O mankind, that I allow my justice to be poured out in order to awaken your conscience and correct your sinful behavior." (Journal 414).
Listen to Dan HERE talk about chastisements on the Drew Mariani Show on Relevant Radio beginning at minute 37.
See and listen to Father Mark Goring's video, The Moment of Chastisement Has Now Arrived.