Pieta of the Apocalypse: Essential End Time Prayers and Promises
#1 Best selling prayer book on Amazon
We are well aware of the lateness of the hour, and we would like to equip you for this time of tribulation, with this little book of treasures from heaven.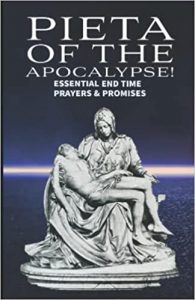 The prayers in this book have been given to Catholic end time seers and mystics over the last century or more. Our Lord Jesus and his Blessed Mother Mary have warned us of the apocalyptic times that we are now facing. They have also blessed us with an abundance of grace filled devotions to assist us through this valley of tears.
Therefore, all the prayers in this book have been directly given to us by heaven for our help and assistance in these end times.
We pray that this book of prayers may be with its faithful owner throughout these difficult times and be a tool to aid the reader in lifting his or her soul up to heaven and reaching his or her soul's desired end which is intimate unity with Christ, Our Lord.
We ask the Lord that this book of end time prayers be for you a means of reaching the spiritual refuge of the Immaculate Heart of Mary and Sacred Heart of Jesus.
As we behold the body of Our Lord Jesus in the arms of his loving Mother, in the Pieta, today, we also reflect upon the lifeless body of Christ, the Church, in the arms of our Blessed Mother Mary. Our Lady holds the church close to her Immaculate Heart as it journeys through its own way of the cross. In the arms of Our Lady, we too hold firm hope that the Church, The Mystical Body of Christ, will soon experience its rebirth and resurrection like its Master. As the Church experiences its painful and sorrowful Calvary, we close to the Our Blessed Mother, are eagerly awaiting a promised Era of Peace and the triumph of the Eucharistic Jesus in a united and renewed Church that imitates the Lord in all things.