PUTIN READIES NUKES TO STRIKE WEST – 12X MORE POWERFUL THAN HIROSHIMA BOMB

Russian tabloid newspaper Komsomolskaya Pravda reported that the Yars missile complex, which was loaded in the Kaluga region, had a capacity "12 times greater than the American bomb that destroyed Hiroshima"—referring to the atomic weapon dropped on the Japanese city on August 6, 1945.
The mass circulation paper's report outlined some of the missile's specifications, which include a launch weight of 46,000 tons, an operational range of up to 12,000 kilometers (7,456 miles) that can strike the U.S. or anywhere in Europe, and a payload of up to 500 kilotons. The RS-24 Yars is an improved version of the previous Topol-M.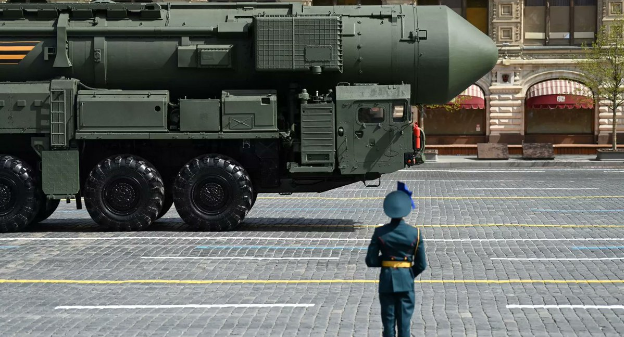 Known in the West as SS-29, it was developed by the Moscow Institute of Thermal Engineering and first tested in 2007. Able to prepare for launch in seven minutes, the missile can be fired from a prepared site, a special garage with a sliding roof, or from an unprepared position during field deployment, according to the website Military Today. The Russian defense ministry said on Wednesday that the missile was installed in the silo using a special transport and loading unit in an operation that took several hours.
The operation was in the lead-up to Russia's annual Strategic Missile Forces Day which will be marked on Saturday, 17 December. "The importance of this operation lies in the fact that the next missile will be on combat duty as planned," Alexei Sokolov, commander of the Kozelsky missile formation said.
"The motherland will receive another sample of nuclear missile weapons, which will allow us to solve any tasks at the strategic level," he added, according to the state-owned Tass news agency. Vadim Vyazovsky, an engineer quoted by the outlet, said, "I am proud of Russia that my country puts into service such products that the motherland can sleep peacefully."
The Yars was on display in October during military drills of Russia's strategic nuclear forces overseen by Vladimir Putin. The exercises prompted Kremlin propagandist, Igor Korotchenko, to say on the channel Russia-1 how it is "very important that we've demonstrated who our main adversary is and what awaits him."
It comes amid growing tensions in world capitals about Russia's nuclear capabilities, as Putin faces setbacks in his full-scale invasion of Ukraine. As an ICBM, the Yars is not a tactical nuclear weapon and analysts doubt that resorting to unconventional warfare would deliver Russia any military advantage. However, Russian media have been pushing claims about its atomic capabilities. Alexander Khodakovsky, the commander of Russia's Donetsk militia, told state television this week that nuclear weapons were one way Russia could win the war.