Israel warns Iran…A World on Fire "I do see indications that the events are already in motion" Medjugorje Visionary
 "Now is the time to tell the world my story"
"Our Lady told me many things that I cannot yet reveal. I can only hint at what the future holds, but I do see indications that the events are already in motion." Mirjana "My Heart will Triumph"
Editor's note: Almost one year ago Israel  attacked Syria on March 18. Medjugorje visionary has said to the world that once the "secrets" begin to unfold people will begin understand why March 18 is so important.  She says  "Only when the things contained in the secrets start to happen will the world understand why Our Lady chose March 18. The significance of the date will be clear."
One year ago on March 18, 2017 an Israel–Syria incident took place  when Israeli Air Force struck a target in Syria. In response the Syrian Army fired several S-200 missiles at Israeli jets above Golan Heights. Israel reported that one Syrian missile had been shot down by an Arrow 2 missile, while none of its aircraft had been damaged. Israel stated it was targeting weapon shipments headed toward anti-Israeli forces, specifically Hezbollah, in Lebanon, while the Syrian Army claimed that a military site near Palmyra had been struck.
The events taking place in the Middle East should not be underestimated for their potential to rapidly spin out of control. Israel is launching airstrikes into Syria and they have severely warned Iran. Russia has fighter jets in Syria and are committed to defending the Syrian regime. and Turkey and the United States are engaged in a complicated and violent  game of protecting certain factions. All of this could explode instantly into something unexpected and dangerous. One thing for certain. Israel does not bluff. They will strike if they feel they must.
---
Israeli PM Benjamin Netanyahu says his country will defend itself "against any attack" after carrying out what appear to be its largest strikes on sites in Syria in decades.
Israel launched raids against Iranian targets after saying it had intercepted an Iranian drone crossing the Syria-Israel border.
Iran denies the allegation.
During the offensive an Israeli F-16 fighter jet was shot down by Syria air defences, crashing in northern Israel.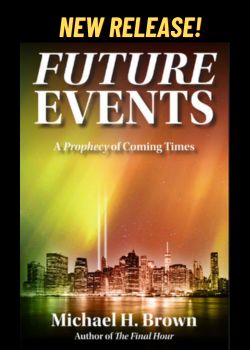 Its pilots ejected from the plane and were taken to hospital.
It is believed to be the first time Israel has lost a jet in combat since 2006.
Mr Netanyahu warned that Israel's policy to defend itself against "any attempt to harm our sovereignty" was "absolutely clear".
"Iran brazenly violated Israel's sovereignty," he said, adding: "They dispatched an Iranian drone from Syrian territory into Israel… Israel holds Iran and its Syrian hosts responsible."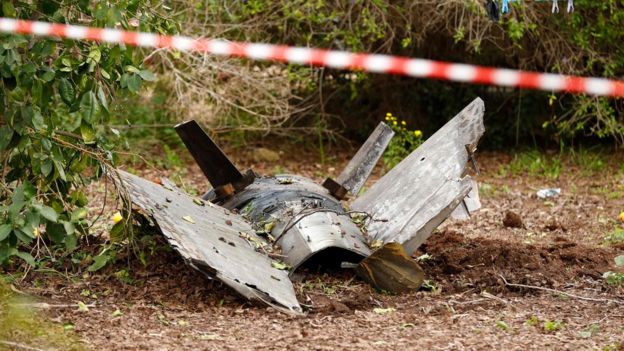 Mr Netanyahu said Israel would oppose any attempt by Iran to entrench itself militarily in Syria.
But he also said during a meeting with military chiefs that "Israel seeks peace".
In other reaction:
The US state department said it supported Israel's right to defend itself, blaming Iran for the confrontation
In a phone call with Mr Netanyahu, Russian President Vladimir Putin stressed the need to avoid a "dangerous escalation". He has been supporting President Assad's government in Syria's civil war
UN Secretary-General Antonio Guterres has called for an immediate de-escalation in the actions that he said threaten a "dangerous spill-over" across Syria's borders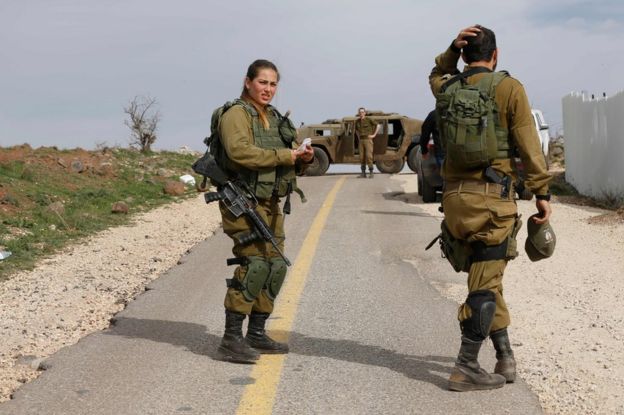 What caused the escalation?
Israel's military says one of its combat helicopters downed an Iranian drone infiltrating Israel on Saturday. It tweeted footage of the incident.
In response, Israel said it attacked Syrian and Iranian targets in Syria, during which an F-16 jet was fired upon, Israel says, causing it to crash.
The two pilots were able to parachute to safety before it came down in an empty field near the town of Harduf in northern Israel.
Israel says it then carried out a second wave of strikes on both Syrian and Iranian military targets.
The Israeli military said it had inflicted huge damage on targets in Syria in the "most significant attack" of its kind against the country since the 1982 Lebanon war.
Syria's state media say air defences opened fire in response to an Israeli attack on a military base, hitting more than one plane.
What is the Iranian presence in Syria?
Iran is Israel's arch-enemy, and Iranian troops have been fighting rebel groups in Syria since 2011.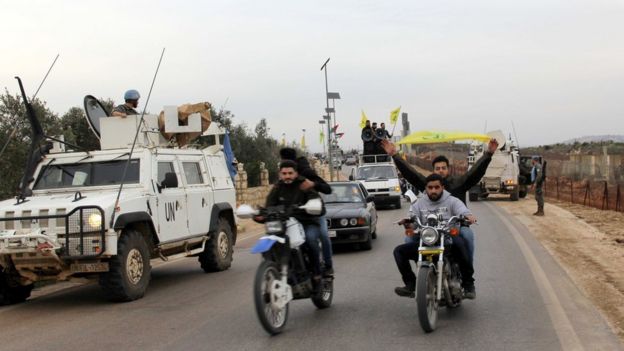 Tehran has sent military advisers, volunteer militias and, reportedly, hundreds of fighters from its Quds Force, the overseas arm of the Iranian Revolutionary Guards Corps (IRGC).
It is also believed to have supplied thousands of tonnes of weaponry and munitions to help President Bashar al-Assad's forces and the pro-Iranian Hezbollah, which is fighting on Syria's side.
Tehran has faced accusations that it is seeking to establish not just an arc of influence but a logistical land supply line from Iran through to Hezbollah in Lebanon.