Painting of St. Michael the Archangel Weeps in Greece – Chief priest testifies "true miracle"
There is a very old icon or painting of St. Michael the Archangel in the Sacred Church of the Archangel Michael at the Old Cemetery of Ialyssos in Rhodes, Greece. The church is Greek Orthodox.
The painting dates to 1896.
Beginning in 2013, the painting weeps.
The [Orthodox] Metropolitan, after indeed verifying there were what looked like tears on the face of the Archangel, asked for the icon to be moved from the place it was hanging. They then examined the back side of the icon as well as the wall on which it rested to determine if there was moisture which passed on to the icon.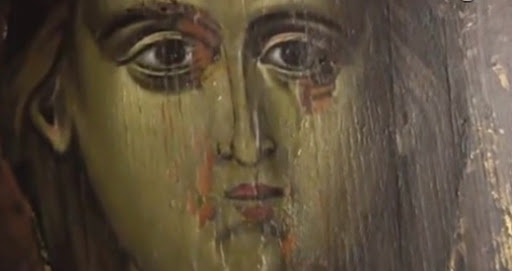 Having established that this was impossible, the Metropolitan of Rhodes testified that this was in fact a miracle, and he asked that the icon be brought to the Sacred Church of the Dormition of the Theotokos in Ialyssos for public veneration, as well as to see if a change in environment would halt the phenomenon. 'We will move it to the big church to see how the phenomenon evolves,' Metropolitan Kyrillos told the faithful who had gathered in the small chapel."