The Queen of Peace: "A great struggle is to unfold. A struggle between my Son and Satan. Human souls are at stake."
---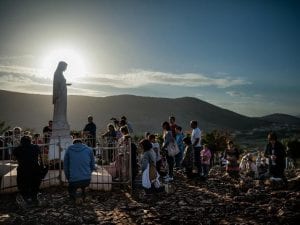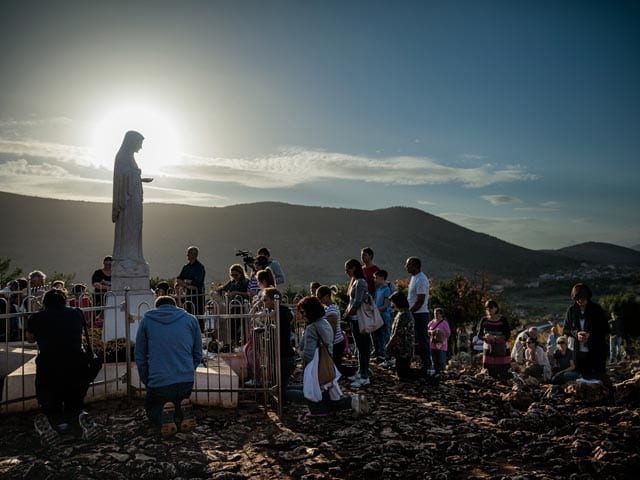 August 2, 1981
From Marija's room, Our Lady asks her and 40 others: "All of you together go to the meadow at Gumno. A great struggle to unfold. A struggle between my Son and Satan. Human souls are at stake."
Commentary 
When Our Lady, our celestial Mother said on August 2, 1981 that "a great struggle was about to unfold," no one could have understood what would unfold.  But today the struggle seems clear, even obvious. Today we see a world turning way from God, rejecting Jesus as our savior. Blasphemy is everywhere and now seems to rule our society. Today, bad is good, good is bad.   An epic struggle between darkness and light for the soul of the world is raging. Human souls are at stake indeed.
Since Our Lady's message, the power of darkness, the power of evil, Satan's power, has not diminished  but in fact has grown in power and now dominates the world .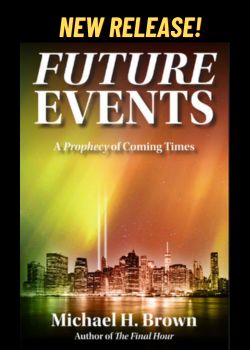 On August 2, 1981, Our Lady spoke  of a showdown that was on its way. A showdown that would be  a decisive moment in the history of mankind.
Today we are nearing the point of what Our Lady said would unfold.  It is in our midst. The smoke of Satan is descending upon the world. Christians are startled at how powerful the forces of darkness are.  And that this darkness continues to achieve victory after victory.
This is why Medjugorje is more important than ever and this is why Archbishop Hoser, Papal Envoy calls Medjugorje the light of the world, He urgently says:
"You can say to the whole world  that there is a light with Medjugorje  and you can find the light again. in Medjugorje. Today We need these spots of light in the world that is going down into darkness. So friends, be carries of this joyful news." 
---
Since you're here …
… we have a small favor to ask. More people are reading Mystic Post than ever but advertising revenues across the media are falling fast. And
unlike many news organisations, we haven't put up a paywall – we want to keep our journalism as open as we can

. So you can see why we need to ask for your help. Mystic Post's independent journalism takes a lot of time, money and hard work to produce. But we do it because we believe our perspective matters – because it might well be your perspective, too.
High quality journalism is essential intellectual nourishment. The generosity of providing such a service without a paywall deserves recognition and supportGiacomo P, Italy
I've been enjoying Mystic Posts for several years now. Today, when so much seems to be going wrong in the world, Mystic Post is working hard to provide truthful Catholic news. I want to support that Robb R. UK
I appreciate there not being a paywall: it is more democratic for the media to be available for all and not a commodity to be purchased by a few. I'm happy to make a contribution so others with less means still have access to information. Annonymous Donator
If everyone who reads our reporting, who likes it, helps to support it, our future would be much more secure.
Thank you
$1.00 $10,00 $25.00 $1,000 – Any contribution makes a big difference.
With a $25.00 donation receive a free miraculous medal. We can really use it – THANKS!