Strange Twist to Pope Accuser's Motivations…"The 'coup' against Pope Francis"
Vigano, the former Vatican ambassador to the United States, angered some church officials in 2015 by arranging a meeting at the Vatican's embassy in Washington between the Pope and Kim Davis, the Kentucky clerk who refused to sign same-sex marriage certificates.
During his trip to the United States, the Pope had tried to stay above the country's culture wars. Vigano foisted Francis right into the fray. The Vatican, which tried to distance the Pope from Davis, was displeased. Two years later, Francis quietly accepted Vigano's resignation.
On Sunday, Vigano struck back.
In an 11-page "testimony" released to conservative Catholic media, Vigano accused Francis of ignoring his warnings about Archbishop Theodore McCarrick, who led the Archdiocese of Washington from 2000-2006. Under Francis' orders, McCarrick resigned from the College of Cardinals last month after accusations that he molested an altar boy and seminarians.
But Vigano said the Pope earlier had lifted restrictions on McCarrick put in place by Pope Benedict XVI, who resigned in 2015.
"In this extremely dramatic moment for the universal Church," Vigano wrote, "he must acknowledge his mistakes and, in keeping with the proclaimed principle of zero tolerance, Pope Francis must be the first to set a good example for cardinals and bishops who covered up McCarrick's abuses and resign along with all of them."
Vigano's accusations come as Francis and his church are trying to contain a quickly escalating sexual abuse crisis that has spread from Australia to Pennsylvania. In Ireland, a country devastated by its own clergy abuse scandals, the Pope repeatedly apologized last weekend for the sins and crimes of church leaders, lamenting that "some members of the hierarchy didn't own up to these painful situations and kept silent."
On the plane ride home, the Pope himself kept silent about Vigano's accusations.
"I will not say a single word about this," he said. "I believe the statement speaks for itself. And you have the sufficient journalistic ability to make your conclusions. It's an act of trust."
While journalists dig for the truth, and the Pope keeps silent, Vigano's letter has emerged as a sort of Rorschach test for Catholics: Many conservative Catholics say the Pope must go. Liberal Catholics accuse the archbishop of launching a coup d'etat against his boss.
"This is a coup operation against Pope Francis," said Massimo Faggioli, a professor of Catholic history and theology at Villanova University in Pennsylvania.
"It is a stunning convergence between the personal agenda of Vigano and the theological agenda of those who do not like Pope Francis."
Turning the tables on Vigano, the Archdiocese of Washington suggested his tenure in the United States should itself be investigated.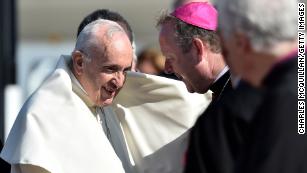 A 2014 memo shows that Vigano himself demanded that evidence be destroyed in an attempt to end an investigation against a former archbishop of St. Paul and Minneapolis, according to CNN Vatican analyst John Allen.
But the Bishop of Phoenix, the Most Rev. Thomas J. Olmsted, issued a statement defending Vigano, whom he said he has known since 1979.
"Although I have no knowledge of the information that he reveals in his written testimony of August 22, 2018, so I cannot personally verify its truthfulness, I have always known and respected him as a man of truthfulness, faith and integrity," Olmsted wrote.
A 'hit list'
Even before he tussled with Francis, Vigano was adept at courting controversy.
In 2011, when he ran the Vatican City State, the Italian churchman clashed with his superiors, accusing Vatican officials of corruption. The charges became enmeshed in the Vatileaks scandal, when former Pope Benedict's butler leaked documents detailing the infighting.
"Vigano presented himself as a whistle blower," said John Thavis, who was the Rome bureau chief for Catholic News Service at the time. "But he also had a persecution complex. He saw conspiracy theories all around him."
Thavis said Benedict didn't seem impressed by Vigano's views. "He sent him 4,000 miles away, to the United States."
Vigano was appointed the Vatican's US ambassador in October 2011. For the most part, he kept a low profile, though some accused the archbishop of breaking with church protocol by appearing at an anti-gay marriage rally at the Supreme Court. (Typically, Vatican ambassadors — known as nuncios — do not publicly involve themselves in another country's internal political debates.)
Besides representing the Pope, nuncios typically advise popes on whom to appoint as bishops.
In his letter Sunday, Vigano seemed bitter that Francis had relied on other Vatican officials for recommendations, saying that "the nunciature in Washington was now out of the picture in the appointment of bishops."
Instead, Vigano said, the appointment of several bishops to top posts in Chicago and New Jersey were "orchestrated" by McCarrick and his successor in Washington, Cardinal Donald Wuerl, as well as Cardinal Oscar Maradiaga, a Honduran who is one of the Pope's closest advisers.
More salaciously, Vigano said the Catholic Church is plagued by "homosexual networks" that "act under the concealment of secrecy and lies with the power of octopus tentacles, and strangle innocent victims and priestly vocations, and are strangling the entire Church."
Those "networks," Vigano said, were complicit in a "conspiracy of silence" that allowed McCarrick's and others' alleged abuses to continue.
In statements, Wuerl of Washington and Cardinal Joseph Tobin of Newark, New Jersey, both of whom were named in Vigano's letter, denied any allegations against them.
"The factual errors, innuendo and fearful ideology of the 'testimony,' serve to strengthen our conviction to move ahead resolutely in protecting the young and vulnerable from any sort of abuse," Tobin said, "while guaranteeing a safe and respectful environment where all are welcome and breaking down the structures and cultures that enable abuse."
The fact that most of the bishops Vigano criticizes are well-known liberals has led some church experts to suspect his motives.
"This letter is a hit list," said Faggioli. "It's all the people he thinks are bad for the church because of their 'homosexual agenda.'"
Apparently, that includes Pope Francis.
Vigano saves most of his ammunition for the Pope, who he says he told in 2013 that McCarrick was "a serial predator" but "continued to cover for him."
But the Pope didn't cover for McCarrick. Unlike his predecessors, Francis forced the former cardinal to resign in July.
And Thavis said Vigano's assertions about Benedict putting restrictions on McCarrick, including not allowing him to participate in church events or celebrate Mass in public, are patently false.
"McCarrick appeared at several high-profile events with Benedict," he said.
Still, Thavis and Faggioli, as well as other church experts, said the Vatican should respond in detail to Vigano's charges, even if the Pope himself refuses to do so.
"They still need to answer some questions," Faggioli said. "This is something that cannot be ignored."