Where in the world will you see confessions in 16 languages?
Medjugorje – that's where!.
Above Photo was taken by CriagTurner who is leading a group from America at 2017 Youth Festival.
---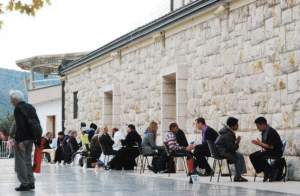 Papal Envoy speaks of the fruits of Medjugorje in May 2017
"Medjugorje transforms people. In many countries individual confessions do not exist. No adoration of the Holy Sacrement, no "Way of the Cross" , no prayer of the rosary.  In many countries there is a dryness of sacred space which leads to a crisis of  the  faith. At Medjugorje people come to the source. The discovery of prayer all takes place with the help of the Virgin Mary."
"Medjugorje emphasizes the title of "The Queen of Peace"  The Holy Father, Pope Francis has said "we are in a piecemeal third world war. We see this in the cruelness of civil wars .  I have lived the genocide in Rwanda. Syria has been destroyed. Syria has the oldest Christian presence in the world. Chemical weapons are now used. There are so many political conflicts, this is the reality of the today's world. So now to evoke  the Queen of Peace, the Mother of God in prayer for peace is important. The specific role of Medjugorje is utterly important ."
"You can say to the whole world  that there is a light with Medjugorje  and you can find the light again. We need these spots of light in the world  that is going down to darkness. So friends, be carries of this joyful news.