Medjugorje: Many signs appeared in the sky…"All these signs are given to strengthen your faith until the great permanent sign, visible to all, will come"

The Queen of Peace of Medjugorje reported: " All these signs are given to strengthen your faith, until the great sign, visible to all and permanent, will come", to explain what is called the third secret (of 10 entrusted to the seers), which will occur soon on the Podbrdo hill. 
In the meantime, let us recall some of the signs that, in the past, have become visible in the sky of the faithful of Medjugorje.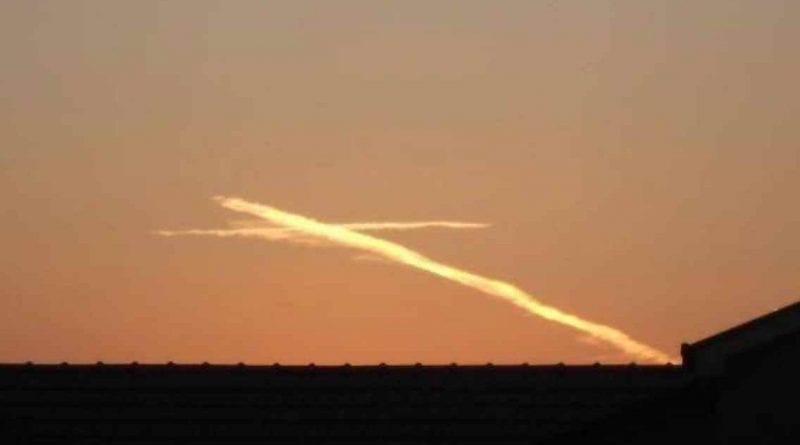 In August 1981 , the cross of the hill of the first apparitions remained luminous for a whole night and, also in the same month, the sun began to spin in the sky, a phenomenon that was then repeated several times. 
Father Tomislav, he recounted: "The sun was at sunset. At a certain moment, he began to turn, moving rapidly towards the place of the apparitions, giving the impression of falling on the heads of men. Many people saw a host instead of the sun; others saw the cross in the sun; still others of the hosts of angels with trumpets ".
Medjugorje: the signs in the sky indicate the real presence of Mary
Another great sign was that of the inscription "Mir", which in Croatian means "peace", appeared on the cross of the hill of apparitions. On the hill of Krizevac there is the great cross, placed there in 1933, which sometimes disappears to show the figure of Mary, of a great host or of a Tau. 
It was, then, October 28, 1981 when it seemed that a fire had flared up from Medjugorje to heaven, so that even the police came. 
Ivan Kozina witnessed this: " I was a sentinel on the mountain . People came to the church, I prayed too. Suddenly a fire broke out, it was about 5.45pm. It seemed like fire, but I realized it was not, because there was no smoke and there was no crackling. Everything lasted 12 minutes, then the fire disappeared. I knelt down and prayed. The next day we checked everything, but there was no sign of fire, neither ash nor anything else ".
In August 1982, two spokes were placed on the cross of the hill and on the church.The visionary Ivan was on the hill, while the Queen of Peace told him: "Now I will give you a sign to strengthen your faith".
Antonella Sanicanti