The True Story of a Woman of a woman in daily communication with Jesus, Mary and St. Michael. The Incredible Story of "Heaven's Helper"
"HEAVEN'S HELPER 'MY LITTLE STAR'" is a true story of a woman in daily communication with Heaven helping those in need. "It's a page turner from the first word!" A great gift for your friends, family
"Life is hard". It is also messy, and usually does not run the way that I would want it to."
Heaven's Helper
"My Little Star"
by Maureen Capistran​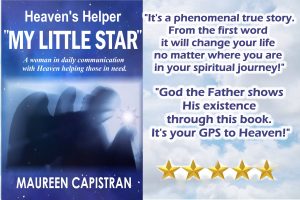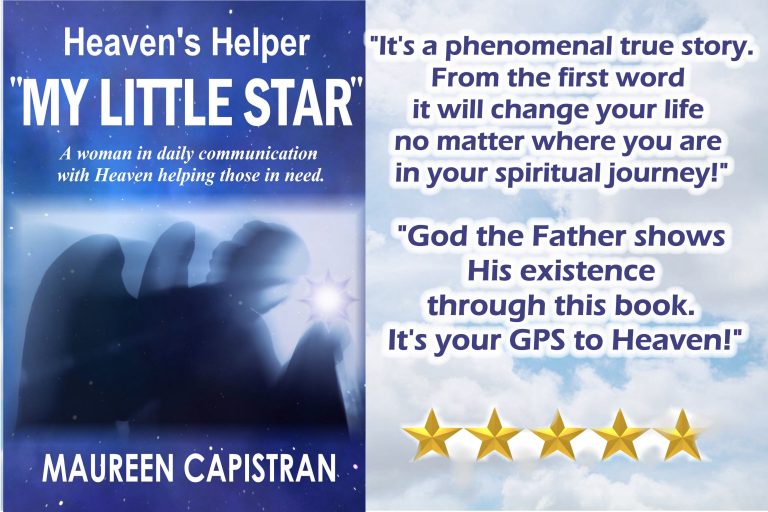 I have been a monk for almost 50 years, entered in 1971. One would think that faith comes easy for someone who lives in a Monastery, prays every day, and lives a communal life. Well, yes, and no. I doubt anyone would disagree with this statement: "Life is hard". It is also messy, and usually does not run the way that I would want it to. So the road to a deeper faith and trust in God has many twists and turns. Yet as the years pass, and I get back up, I find that God was never 'missing' nor 'absent', but closer to me than my very soul.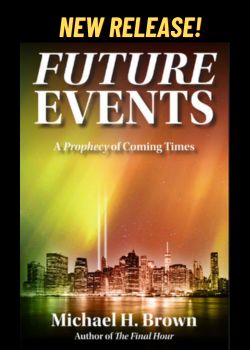 One day I was asked by a friend, who is an atheist, this question: "Don't you think the very idea of a God who is invisible and infinite is absurd". I thought about it and had to say: "Well yes, sometimes it can seem absurd, yet on further reflection, the thought that there is no God is even more absurd. We live in a world that is rational, run by laws that are packed with information. It screams intelligence to me. So my faith has grown in spite of doubts."
"I have come to show you that God exists", is one of the first messages given by Our Lady of Medjugorje. Why, well because we need to be reminded of that reality. So it is with Maureen, she has gifts, many gifts, all to be used in the service of others, and also, to show that God exists.
The story of her ongoing relationship with Jesus, Mary, and St. Michael is presented in very down to earth terms. She went through years of training to prepare her for her mission. The training will be familiar to all who seek to live a God-Centered, loving life. We are all trained every day by all of those 'little' incidences that we have to respond to, not react to, that leads us deeper into the love of God and others. It is the death to self a thousand times a day. When we fail, we learn and move on.
One lesson I have learned in this book, one I have to learn over and over again, is that God is in the little things, how we respond, and in those little, but very important responses, we can handle the big things.
There are also healings, and down to earth teachings that anyone of any faith, or no faith, will find helpful. This is a simple book, but can enrich the life of anyone who reads it in a prayerful, open-hearted manner.
People like Maureen or given her gifts for each one of us. She is a servant of others, and filled with true humility. That is, what you see is what you get. So I highly recommend this book for anyone who reads this simple review of her book.
Buy book here: Saint Raphael Oils
About Maureen Capistran
Maureen Capistran did not know much, if anything, about God and Heaven. An admitted workaholic, living in the Boston area, she had little interest in spiritual topics. Accumulating wealth was her primary goal. Then without warning or reason, in 1989, Maureen began to experience episodes of demonic attacks that terrified her. Little did she realize at the time, she had been chosen by God for a specific purpose. God the Father gave Maureen many gifts including, healing, knowledge, and discernment to guide her in the mission He had planned for her life. He also gave her the grace to see and hear Jesus, the Blessed Mother and Archangel Michael. She has spent over 20 years in service to Heaven using these gifts helping people in need. Simple, yet profound, she wrote this book to show what God would like us to know and understand to advance in our spiritual journey on earth, the impact of the power of "one" and proof that God exists.

Br. Mark Dohle