The 28th Youth Festival concluded with the Holy Mass of Thanksgiving on the top of Cross Mountain
The 28th Youth Festival was concluded with the Holy Mass of Thanksgiving, celebrated by the parish priest Fr. Marinko Sakota on the top of Cross Mountain on Sunday, August 6, at 5 am. The Youth Festival began on Tuesday, August 1, 2017 with the theme "That your love may grow more" and gathered dozens of thousands of young people from 61 countries. The programme began each day with the morning prayer at 9 am at the White Dome and continued with catechesis, testimonies, music and lessons from the Christian life. On Wednesday, August 2, young people gathered on Apparition Hill to start with the prayer of the joyful mysteries of the Rosary.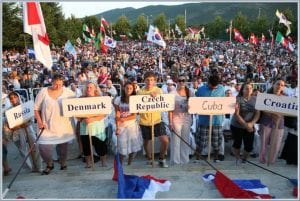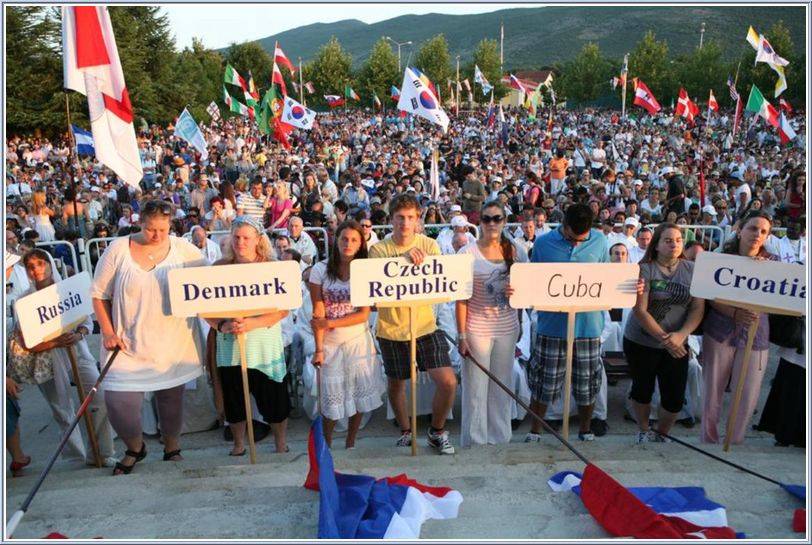 Morning catechesis was given by Fr. Danko Perutina (Wednesday) and Fr. Jacques Philippe from the community of Beatitudes (Thursday, Friday and Saturday). Due to the extreme heat, instead of at 4 pm, the programme continued at 5 pm, which was exception this year. Rosary was at 6 pm and the central part of the day was Holy Eucharist at 7 pm.
The opening Holy Mass on August 1, was celebrated by Fr. Augustin Čordaš, newly ordained priest and dr. Fr. Miljenko Šteko, the Provincial of Herzegovina Franciscan Province gave a homily. Newly ordained priests in the following days who were the main celebrants were Fr. Alen Pajić, Fr. Emanuel Josić, Fr. Julijan Madžar, Fr. Zvonimir Pavičić, while the homilies were given by Danko Perutina, Cardinal Ernest Simoni-Troshani from Albania, Fr. Ivan Filipović, the spiritual assistant of Cenacolo community and Fr. Franjo Dušaj.
The largest number of the priests concelebrating was on Friday, August 4, 512 of them, while there were 460 on Tuesday, 504 on Wednesday and 507 on Thursday. Visionaries from Medjugorje, Ivan Dragićević and Marija Pavlović-Lunnetti prayed Our Lady's Magnificat each night after the Holy Mass.
The procession with the Statue of Our Lady was held on Thursday, August 3, after the evening Holy Mass and the youth from Switzerland carried the statue. Youth representatives from every country walked in the procession behind the Statue, while everything was concluded with the short Adoration of the Blessed Sacrament and the blessing. This walk was in the symbolic shape of a heart, as Gospa has been teaching us in prayer, leading us to the Lord. Members of Cenacolo community gave musical performance "Credo" on Friday night after the evening programme. Many priests from many countries were available for confessions during the whole time of the Youth Festival. All of this was accompanied by the music and singing of the International Choir and Orchestra, conducted by prof. Damir Bunoza, with the youth from 33 countries. The Festival was simultaneously translated in 18 languages, and was live stream and broadcasted by many radio stations and web sites. (photos)