Actor Shia LaBeouf converts to Catholicism after studying for 'Padre Pio' movie
Actor Shia LaBeouf said he converted to Christianity while shooting his upcoming film "Padre Pio" and has become a member of the Roman Catholic Church.
LaBeouf revealed his conversion in an interview released Thursday with Word on Fire Catholic Ministries' Bishop Robert Barron.
The actor first engaged with the church while living with a monastery of Franciscan Capuchin friars in order to better understand the late mystic St. Padre Pio, whom LaBeouf portrays in the upcoming movie.
Heading into the project, LaBeouf said that he was at the darkest point in his life after a series of public scandals. He was drawn to spirituality and joined a variety of faith groups to find meaning, fighting thoughts of helplessness and suicide.
"I had a gun on the table. I was outta here," Shia recalled in the nearly 90-minute interview. "I didn't want to be alive anymore when all this happened. Shame like I had never experienced before — the kind of shame that you forget how to breathe. You don't know where to go. You can't go outside and get like, a taco." 
"But I was also in this deep desire to hold on," he added.
BISHOP ROBERT BARRON: 'DUMBED DOWN CATHOLICISM HAS NOT HELPED EVANGELIZATION'
The actor described finding faith during his research by surprise, saying that his mindset going into the film was focused on his career, not God. 
"The reach-out had happened. I was already there, I had nowhere to go. This was the last stop on the train. There was nowhere else to go — in every sense," LaBeouf said in the interview. 
He continued, "I know now that God was using my ego to draw me to Him. Drawing me away from worldly desires. It was all happening simultaneously. But there would have been no impetus for me to get in my car, drive up [to the monastery] if I didn't think, 'Oh, I'm gonna save my career.'" 
While researching and performing the role, however, LaBeouf said he felt "tricked" by God.
"And when I got here, a switch happened. It was like Three-Card Monte. It was like someone tricked me into it, it felt like," the actor recounted. "Not in a bad way. In a way that I couldn't see it. I was so close to it that I couldn't see it. I see it differently now that time has passed."
LaBeouf described talking through his feelings and learning about the Christian understanding of sin and forgiveness as key to pulling him out of a dark time in his life.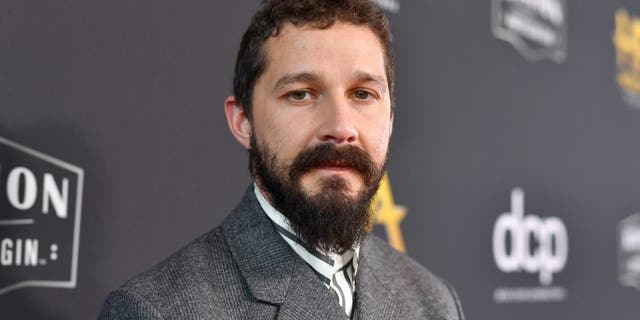 Shia LaBeouf attends the 23rd Annual Hollywood Film Awards at the Beverly Hilton Hotel in Beverly Hills, California, on Nov. 3, 2019. (Emma McIntyre/Getty Images for HFA)
The actor said that he did not feel worthy of pursuing piety of any kind until he met others who had struggled morally in ways he'd never seen before and felt safe.
Last year, LaBeouf was charged with two misdemeanors — petty theft and battery — after he stole a man's hat in a fight that turned physical. Just a couple of months later, his ex-girlfriend and pop star FKA Twigs sued him over his alleged abusive behavior.