Hopeful signs from the Virgin Mary? – Coronavirus and Medjugorje – Visionary who sees Blessed Mother everyday states clearly: "This virus is evil – but not a punishment from God – It won't last long."
Signs of hope are occuring in hard hit Italy..
Last week in a fadio interview Visionary Marija suggested that the spread of the evil coronavirus will not "last long".. Hopeful reports are beginning to make the bews (see below)
Radio Interview with Marija -excerpt – "When discussing the message of February 25, 2020, visionary Marija told Padre Livio on Radio Maria: "This virus is evil, it doesn't come from God. I am convinced that this situation won't last long, but for us it is an invitation to start a new life. When I heard this Coronavirus, I asked m
yself: 'How can we fight him?' As the name tells us, let's stick to the Crown, let's stick to the Rosary. Holy Rosary has won on a thousand occasions. Let's start with the Rosary in our families. May the Lord free us from this fear… Jesus said that certain evil spirits can only be removed by prayer and fasting. Even for this virus we start praying and fasting."
---
Coronavirus News Update
The northern Italian town that recorded the country's first coronavirus infection has shown signs that it may have turned the corner regarding the spread of the virus.
Codogno, a town of 16,000 people 40 miles southwest of Milan and known as Italy's coronavirus ground zero, still has registered the most of any of the 10 Lombardy towns in the original red zone. But the infections appear to have slowed down.
At the beginning of the outbreak, the town, which has seen 34 people die, had 35 new cases a day.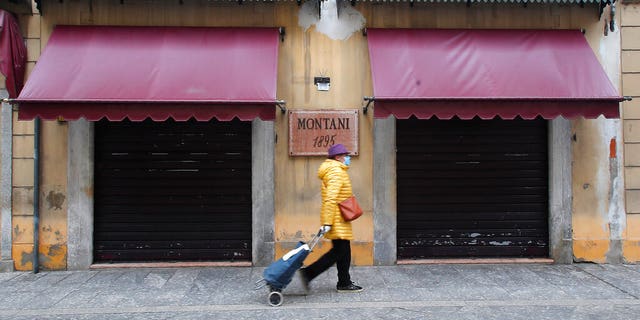 Comparatively, on Wednesday, there were just five new infections registered, according to The Associated Press.
"It is a war. It is a war, but we have every possibility of winning," Mayor Francesco Passerini said. "Unlike with our grandfathers, who went physically into battle for our freedom, we are being required to show responsibility — responsibility and calm."
Residents of the town have come to terms with their isolation from the world. Passerini explained they mostly wear masks when outside and have eschewed handshakes for other forms of greeting, such as a steady gaze. They also steadfastly abide by a rule where they stand at least 3-feet from others as they wait at a pharmacy or a grocery store.
People no longer attend Mass or congregate at the local café to gossip while trains no longer stop at the station.
---
(February 25, 2020)
"Dear children! In this time of grace, I desire to see your faces transformed in prayer. You are so flooded by earthly concerns; you do not even feel that spring is at the threshold. You are called, little children, to penance and prayer. As nature fights in silence for new life, also you are called to open yourselves in prayer to God, in Whom you will find the peace and warmth of the spring sun in your hearts. Thank you for having responded to my call." 

Source