Sign of a World without God? Putin reveals fears that robots with artificial intelligence will "eat us'



It's a good bet that God will not be programmed into the artificial intelligence of super smart "robots".  So with that in mind, it is not too difficult to conceive of Putin's dystopian world of Robots "eating us" and leaving earth godless and dominated by machines.
Perhaps it worth noting that the Virgin Mary at Medjugorje once offered a prophetic message to the young visionaries saying humans run a risk of moving forward in the world without God,  She warned  specifically that the  "West" will "make civilization progress but without God and will act as if they are their own Creator."
---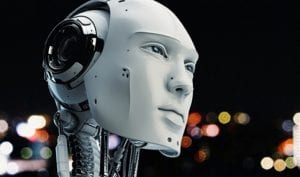 Vladimir Putin has expressed his fears over artificial intelligence by asking Russia's largest technology firm how long it will be until smart robots 'eat us'.
The Russian president was speaking to Arkady Volozh, chief of internet firm Yandex, during a tour of the company's Moscow headquarters.
Volozh was discussing the potential of AI when Putin caused surprise by asking when the technology will 'eat us'.
The Russian president was speaking to Arkady Volozh, chief of internet firm Yandex, during a tour at the company's Moscow headquarters. Pictured: Putin at the Kremlin yesterday during a meeting with leading businessmen
According to state-funded Russian broadcaster RT, the question baffled Volozh.
He replied: 'I hope never.'
After a pause, he then explained that other machines are 'better than humans' in certain areas, giving the example of an excavator being better at digging than a person with a shovel.
He added: 'But we don't get eaten by excavators.'
Read more: http://www.dailymail.co.uk/news/article-4909172/Putin-reveals-fears-robots-one-day-eat-us.html#ixzz4tPhcclK5
Follow us: @MailOnline on Twitter | DailyMail on Facebook

Please follow and like us:
---
The world is under attack and Mystic Post is facing real difficulties right now.

We need your help spreading the messages of the Queen of Peace.

We work very hard for Our lady every day.

Helping to Spread Our Lady's message of the coming of Her Triumph is our Mission
Satan is attacking her plans for peace and salvation for the world like never before.








God Bless you and thank you for your support and help...Stephen Ryan Founder of Mystic Post