Medjugorje: "I bring the warm greeting and blessings of the Holy Father …" Vicar of the Diocese of Rome
Cardinal De Donatis at the opening of the Youth Festival
I bring the warm greeting and blessing of the Holy FatherWith the consecration of 620 archbishops, bishops and priests, the Holy Mass was celebrated by the Pope's Vicar of the Diocese of Rome, Angelo De Donatis, in Medjugorje, the 30th Youth Festival began. With tens of thousands of young people in Medjugorje, the opening of the festival via a live stream was followed by a record 1,747,100 people worldwide.At the beginning of his sermon, Cardinal De Donatis said he was "grateful to God and to all of you for inviting me to preach the Holy Mass of the opening of the 30th Youth Festival. I bring to you all a warm greeting and blessing of the Holy Father, " and he also referred to the motto of this year's Mladifest.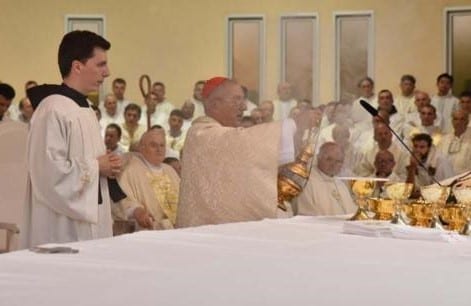 Please follow and like us:
---
The world is under attack and Mystic Post is facing real difficulties right now.

We need your help spreading the messages of the Queen of Peace.

We work very hard for Our lady every day.

Helping to Spread Our Lady's message of the coming of Her Triumph is our Mission
Satan is attacking her plans for peace and salvation for the world like never before.








God Bless you and thank you for your support and help...Stephen Ryan Founder of Mystic Post